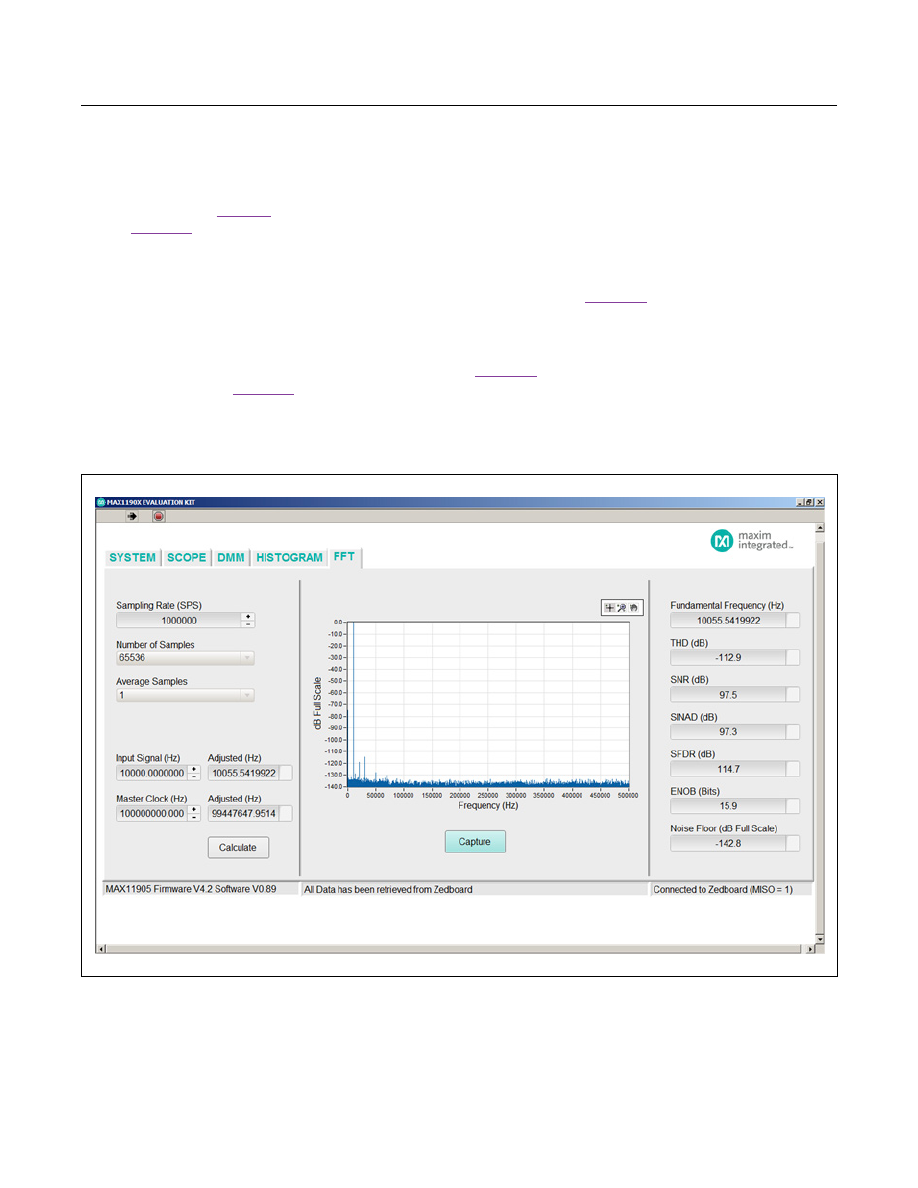 The sample rate for 
Figure 9
 is 1Msps and the sample 
rate for 
Figure 10
 is 1.6Msps, the MAX11905's maximum 
sample rate. As measured at the MAX11905 output, the 
signal-to-noise ratio is > 97dB for both sample rates, with 
total harmonic distortion > 112.9dB.
Figures 11 to 13 detail the DC performance of the 
MAX44206 and MAX11905. These three figures detail 
the results of shorting the inputs together to GND at the 
V
SIG
 sources and measuring the noise histogram at the 
output of the ADC. All data was measured at 1Msps, with 
65,536 samples taken. 
Figure 11
 shows the results at a 
20-bit code level with no averaging. Effective number of 
bits (ENOB) is 17.9 bits.
One technique to improve a system's ENOB is to aver-
age multiple samples. The tradeoff is a reduced effective 
sample rate. The theoretical expected results of averag-
ing are a 0.5 improvement in ENOB for every average 
factor of 2. Therefore, averaging by 16x should improve 
ENOB by 2 bits. 
Figure 12
 details this example, and the 
ENOB is improved nearly 2 bits, from 17.9 bits to 19.8 
bits. This shows that the noise from the ADC and the op 
amp are not limiting the ENOB.
Figure 13
 shows the results of averaging by 64x, which 
will limit the effective sample rate to 15.6ksps (1Msps/64). 
ENOB is 20.8 bits in this mode, making the MAX11905 a 
lower power alternative to high-speed 24-bit delta-sigma 
ADCs.
Figure 9. MAX11905 FFT (fSAMPLE = 1Msps, fIN = 10kHz)
MAX44206
180MHz, Low-Noise, Low-Distortion, Fully 
Differential Op Amp/ADC Driver
www.maximintegrated.com
Maxim Integrated  │
  24