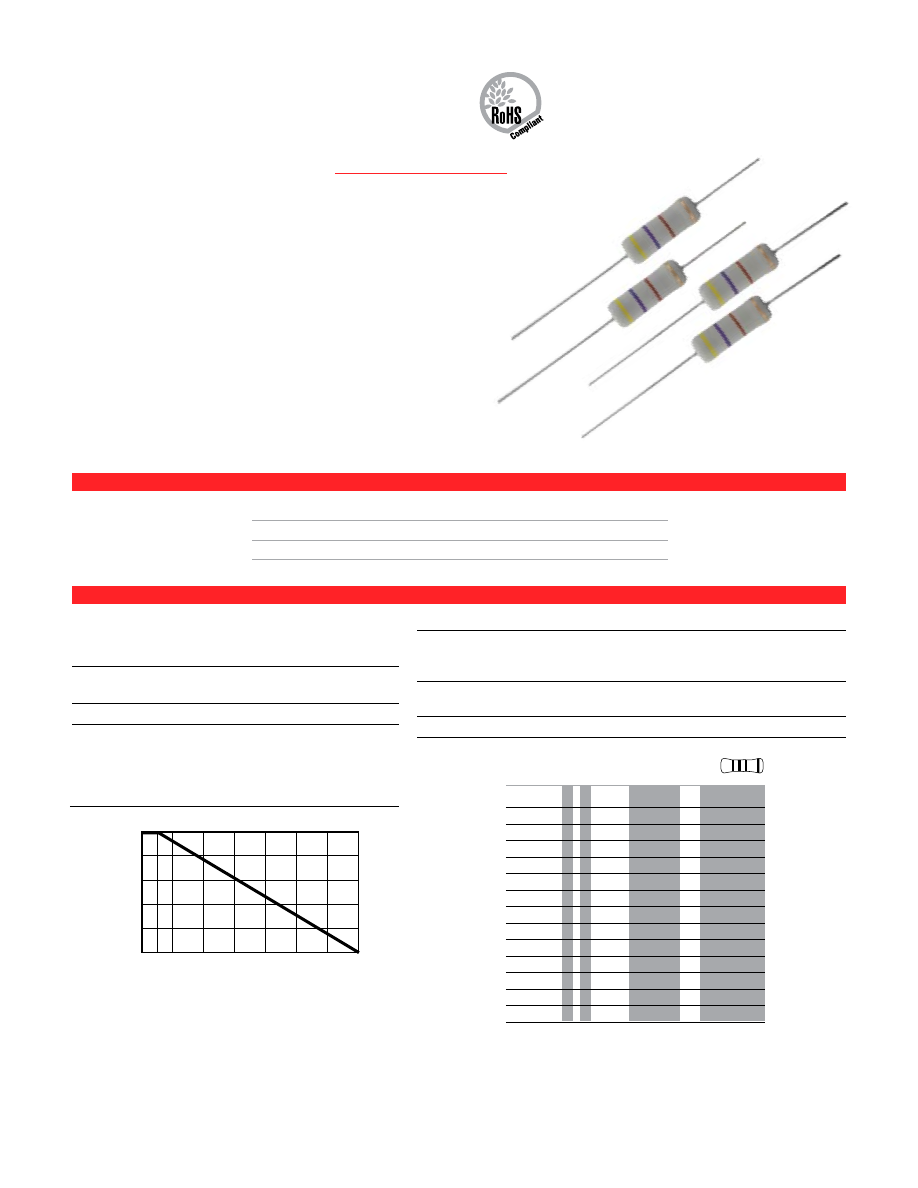 1-866-9-OHMITE • Int'l 1-847-258-0300 • Fax 1-847-574-7522 • www.ohmite.com • [email protected]
6
Test Condition
Maximum ∆R
Short term overload 5X Rated power for 5 sec-
onds (3W); 10X Rated power 
for 5 seconds (5W) 
<2% + 0R05
Load life at rated power 1000 hours (1.5 Hrs ON, 0.5 
Hrs OFF cycle)
<5% + 0R05
Robustness of termination As per BS-CECC 40201-002 <1% + 0R05
Temp. Coefficient 
of Resistance
±90 ppm/°C  for below 1.0 Ω 
±50 for 1.0 Ω to 99 Ω
±30 for 100 Ω and above
Short Term 
Overload
53J  5X for 5 seconds
55J  10X for 5 seconds
Leads Tin Coated Copper
50 Series
Economical Silicone Coated Wirewound 
Automated winding, in-line color 
banding, and testing allow for an 
economically priced, industrial 
grade wirewound power resistor. 
These resistors feature an all 
welded construction with a high 
purity alumina ceramic core and 
high quality RoHS grade tinned 
copper wire instead of copper 
weld which produces better 
thermal characteristics. The 50 
series accompanies Ohmite's 
wide range of axial leaded prod-
ucts.
Series  Power at 25°C 
Resistance  Limiting Element Voltage
53J 
3W 
0R1 to 10K 
150
55J 
5W 
0R1 to 20K 
200 
F e a t u r e S
•Ruggedconstruction
•OptimizedforMedium
to High volume pro-
duction
•Customresistance
values can also be 
produced on request.
S e r i e S   S p e c i F i c at i o n S
c h a r a c t e r i S t i c S
1 2 3   4
Key to four-band code
          Band  1  2     
3 
4 
Color 
 Digit     
Multiplier   
Tolerance
Black 
0  0    x 
1Ω 
Brown 
1  1    x 
10Ω 
±  1%  
(F)
Red 
2  2    x 
100Ω 
±  2%  
(G)
Orange 
3  3    x 
1KΩ 
±  3%  
Yellow 
4  4    x 
10KΩ 
±  4%  
Green 
5  5    x 
100KΩ
Blue 
6  6
Violet 
7  7
Grey 
8  8 
White 
9  9      
Gold 
      x 
0.1Ω 
±  5%  
(J)
Silver 
      x 
0.01Ω 
±  10%   (K)
% Rated Power
Ambient Temperature, °C
350
0
50
25
100 150 200 250 300
40
0
60
80
20
100
Derating