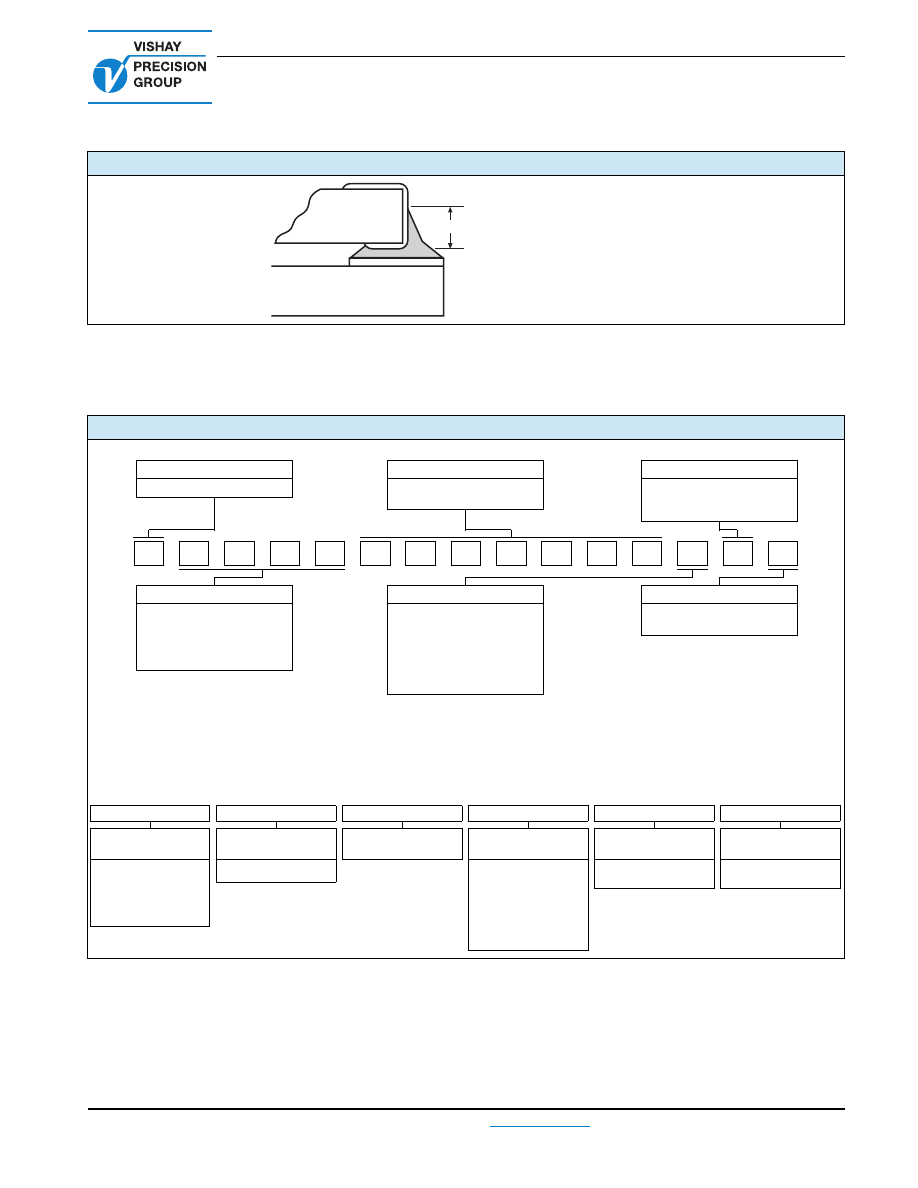 VSM Series (0805, 1206, 1506, 2010, 2512)
Vishay Foil Resistors
Document Number: 63070
For any questions, contact: 
www.foilresistors.com
Revision: 25-Mar-10
3
Notes
(1)
Avoid the use of cleaning agents which could attack epoxy resins, which form part of the resistor construction
(2)
Vacuum pick up is recommended for handling
(3)
Soldering iron may damage the resistor
Note
(1)
For non-standard requests, please contact application engineering.
FIGURE 4 - RECOMMENDED MOUNTING 
(1)(2)(3)
25 % to 85 % of T 
A low profile solder fillet is
recommended to avoid unnecessary
stresses along top edge of
metallization. IR and vapor phase
reflow are best.
TABLE 5 - GLOBAL PART NUMBER INFORMATION
 (1)
NEW GLOBAL PART NUMBER: Y145512K7560T9R (preferred part number format)
DENOTES PRECISION
VALUE
CHARACTERISTICS
Y
R = 
Ω
K = k
Ω
0 = standard
9 = lead (Pb)-free
1 to 999 = custom
PRODUCT CODE
RESISTANCE TOLERANCE
PACKAGING
1172 = VSM0805
1496 = VSM1206
1455 = VSM1506
1611 = VSM2010
1612 = VSM2512
T = ± 0.01 %
Q = ± 0.02 %
A = ± 0.05 %
B = ± 0.10 %
C = ± 0.25 %
D = ± 0.5 %
F = ± 1.0 %
R = tape and reel
W = waffle pack
FOR EXAMPLE: ABOVE GLOBAL ORDER Y1455 12K7565 T 9 R:
TYPE: VSM1506
VALUES: 12.7560 k
Ω
ABSOLUTE TOLERANCE: 0.01 %
TERMINATION: lead (Pb)-free
PACKAGING: tape and reel
HISTORICAL PART NUMBER: VSM1506  12K756 TCR2 T S T (will continue to be used)
VSM1506
12K756
TCR2
T
S
T
MODEL
RESISTANCE VALUE
TCR 
CHARACTERISTICS
TOLERANCE
TERMINATION
PACKAGING
VSM0805
VSM1206
VSM1506
VSM2010
VSM2512
12.756 k
Ω
T = ± 0.01 %
Q = ± 0.02 %
A = ± 0.05 %
B = ± 0.10 %
C = ± 0.25 %
D = ± 0.5 %
F = ± 1.0 %
S = lead (Pb)-free
B = tin/lead
T = tape and reel
W = waffle pack
4
5
5
1
K
7
5
2
Y
1
T
9
6
R
0