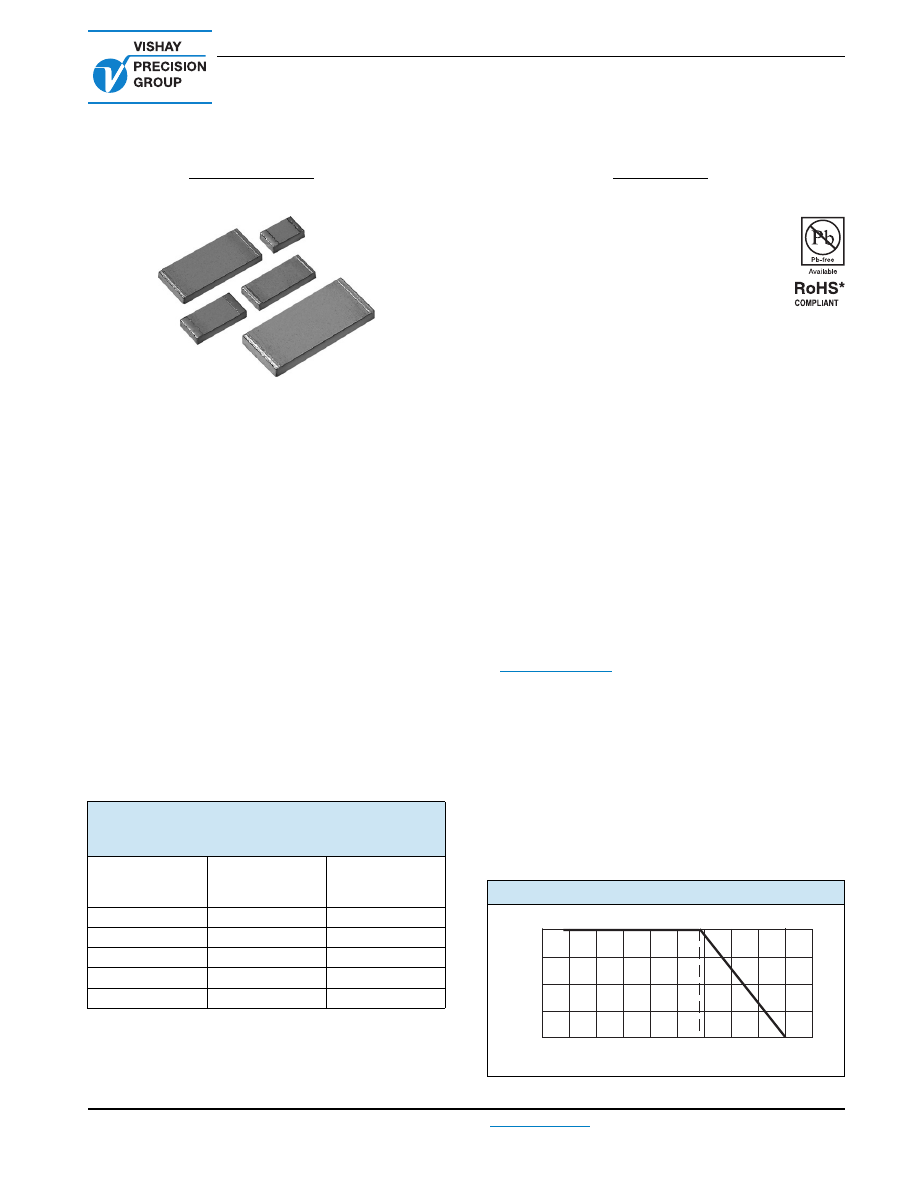 High Precision Foil Wraparound Surface Mount Chip Resistor with 
TCR of ± 2 ppm/°C and Load Life Stability of ± 0.01 % (100 ppm)
VSM Series (0805, 1206, 1506, 2010, 2512)
Vishay Foil Resistors
Document Number: 63070
For any questions, contact: 
www.foilresistors.com
Revision: 25-Mar-10
1
INTRODUCTION
Bulk Metal
® 
Foil (BMF) technology out-performs all other
resistor technologies available today for applications that
require high precision and high stability, and allows
production of customer oriented products designed to satisfy
challenging and specific technical requirements.
The BMF provides an inherently low and predictable
Temperature Coefficient of Resistance (TCR) and excellent
load life stability for high precision analog applications.
Model VSM offers low TCR, excellent load life stability, tight
tolerance, excellent shelf life stability, low current noise and
low voltage coefficient, all in the same resistor.
The VSM has a full wraparound termination which ensures
safe handling during the manufacturing process, as well as
providing stability during multiple thermal cyclings.
Our application engineering department is available to
advise and make recommendations. For non-standard
technical requirements and special applications, please
contact us using the e-mail address in the footer below.
Note
(1)
For tighter performances and non-standard values up to 150K,
please contact Vishay application engineering using the e-mail
address in the footer below.
FEATURES
• Temperature coefficient of resistance (TCR):
± 2.0 ppm/°C typical (- 55 °C to + 125 °C,
+ 25 °C ref.) (see table 1)
• Tolerance: to ± 0.01 %
• Power rating: to 400 mW at + 70 °C
• Load life stability: to ± 0.01 % at 70 °C, 2000 h
at rated power
• Resistance range: 10 Ω to 125 kΩ (for higher and lower
values, please contact us)
• Vishay Foil resistors are not restricted to standard values,
we can supply specific "as required" values at no extra cost
or delivery (e.g. 1K2345 vs. 1K)
• Fast thermal stabilization < 1 s
• Electrostatic discharge (ESD) up to 25 000 V
• Short time overload: ≤ 0.01 %
• Non inductive, non capacitive design
• Rise time: 1 ns effectively no ringing
• Current noise: - 42 dB
• Voltage coefficient < 0.1 ppm/V
• Non inductive: < 0.08 µH
• Non hot spot design
• Terminal finishes available: lead (Pb)-free, tin/lead alloy
• Compliant to RoHS directive 2002/95/EC
• Matched sets are available per request
• Prototype quantities available in just 5 working days
or sooner. For more information, please contact
• For better performances please review VSMP  and
VFCP Series datasheets
APPLICATIONS
• Automatic test equipment (ATE)
• High precision instrumentation
• Laboratory, industrial and medical
• Audio
• EB applications (electron beam scanning and recording
equipment, electron microscopes)
• Down hole instrumentation
• Communication
* Pb containing terminations are not RoHS compliant, exemptions may apply
TABLE 1 - TOLERANCE AND TCR VS. 
RESISTANCE VALUE 
(1)
(- 55 °C to + 125 °C, + 25 °C Ref.)
RESISTANCE 
VALUE
(
Ω)
TOLERANCE 
(%)
TYPICAL TCR AND 
MAX. SPREAD
(ppm/°C)
250
 to 125K
± 0.01
± 2 ± 2
100
 to < 250
± 0.02
± 2 ± 3
50
 to < 100
± 0.05
± 2 ± 3
25
 to < 50
± 0.1
± 2 ± 4
10
 to < 25
± 0.25
± 2 ± 6
Top View
FIGURE 1 - POWER DERATING CURVE
100
75
50
25
0
  - 75
- 50
- 25
0
+ 25
+ 50
+ 75 + 100 + 125 + 150 + 175
Ambient Temperature (°C) 
Percent of Rated Power 
+ 70 °C
- 55 °C