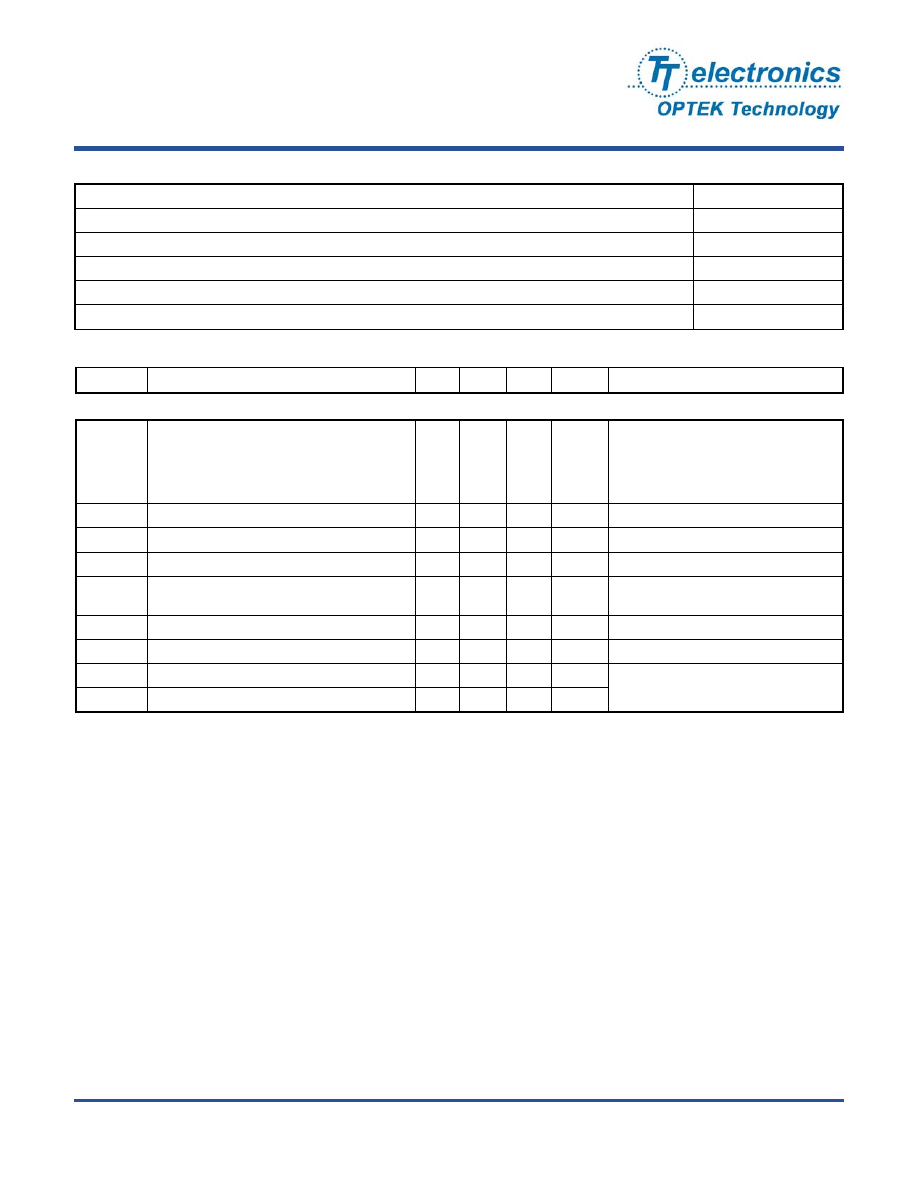 OPTEK reserves the right to make changes at any time in order to improve design and to supply the best product possible. 
OPTEK Technology Inc. — 
1645 Wallace Drive, Carrollton, Texas 75006 
Phone: (972) 323-2200 or (800) 341-4747 
   FAX: (972) 323-2396   [email protected]   www.optekinc.com 
Issue A      04/2012 
Page 3 of 5 
Plastic Infrared Emitting Diode 
OP140, OP145 Series 
Absolute Maximum Ratings 
(T
A
=25°C unless otherwise noted)  
Storage and Operating Temperature Range 
-40
o 
C to +100
o 
C 
Reverse Voltage
2.0 V 
Continuous Forward Current 
50 mA 
Peak Forward Current  
3.0 A 
Lead Soldering Temperature [1/16 inch (1.6 mm) from case for 5 seconds with soldering iron]
(1)
 260° 
C 
 Power 
Dissipation
(2)
100 mW 
Notes: 
1.  RMA flux is recommended.  Duration can be extended to 10 seconds maximum when flow soldering.  A maximum of 20 grams force 
may be applied to the leads when soldering. 
2.  Derate linearly 1.33 mW/° C above 25° C. 
3. E
E(APT)
 is a measurement of the average apertured radiant energy incident upon a sensing area 0.180" (4.57 mm) in diameter 
perpendicular to and centered on the mechanical axis of the lens and 0.653" (6.60 mm) from the lens tip.  E
E(APT)
 is not necessarily 
uniform within the measured area. 
Electrical Characteristics 
(T
A
 = 25
°C unless otherwise noted) 
SYMBOL PARAMETER  MIN 
TYP 
MAX 
UNITS 
TEST 
CONDITIONS 
Input Diode
E
E (APT)
Apertured Radiant Incidence 
 OP140A, 
OP145A 
 OP140B, 
OP145B 
 OP140C, 
OP145C 
 OP140D, 
OP145D   
0.40 
0.30 
0.20 
0.10 
- 
- 
- 
- 
- 
0.55 
0.40 
- 
mW/cm
2
I
F
 = 20 mA
(3)
V
F
 Forward 
Voltage 
-  - 1.60 V I
F
 = 20 mA 
I
R
 Reverse 
Current 
-  - 100 µA 
V
R
= 2.0 V 
λ
P
Wavelength at Peak Emission 
- 
935 
- 
nm 
I
F
 = 10 mA
B  
Spectral Bandwidth between Half Power 
Points 
- 50 -  nm 
I
F
 = 10 mA 
∆λ
P 
/∆T  Spectral Shift with Temperature 
- 
±0.30 
- 
nm/°C  I
F
 = Constant 
θ
HP
Emission Angle at Half Power Points 
- 
40 
- 
Degree  I
F
 = 20 mA 
t
r
Output Rise Time 
- 
1000 
- 
ns 
t
f
Output Fall Time 
- 
500 
- 
ns 
I
F(PK)
=100 mA, PW=10 µs, and 
D.C.=10.0%