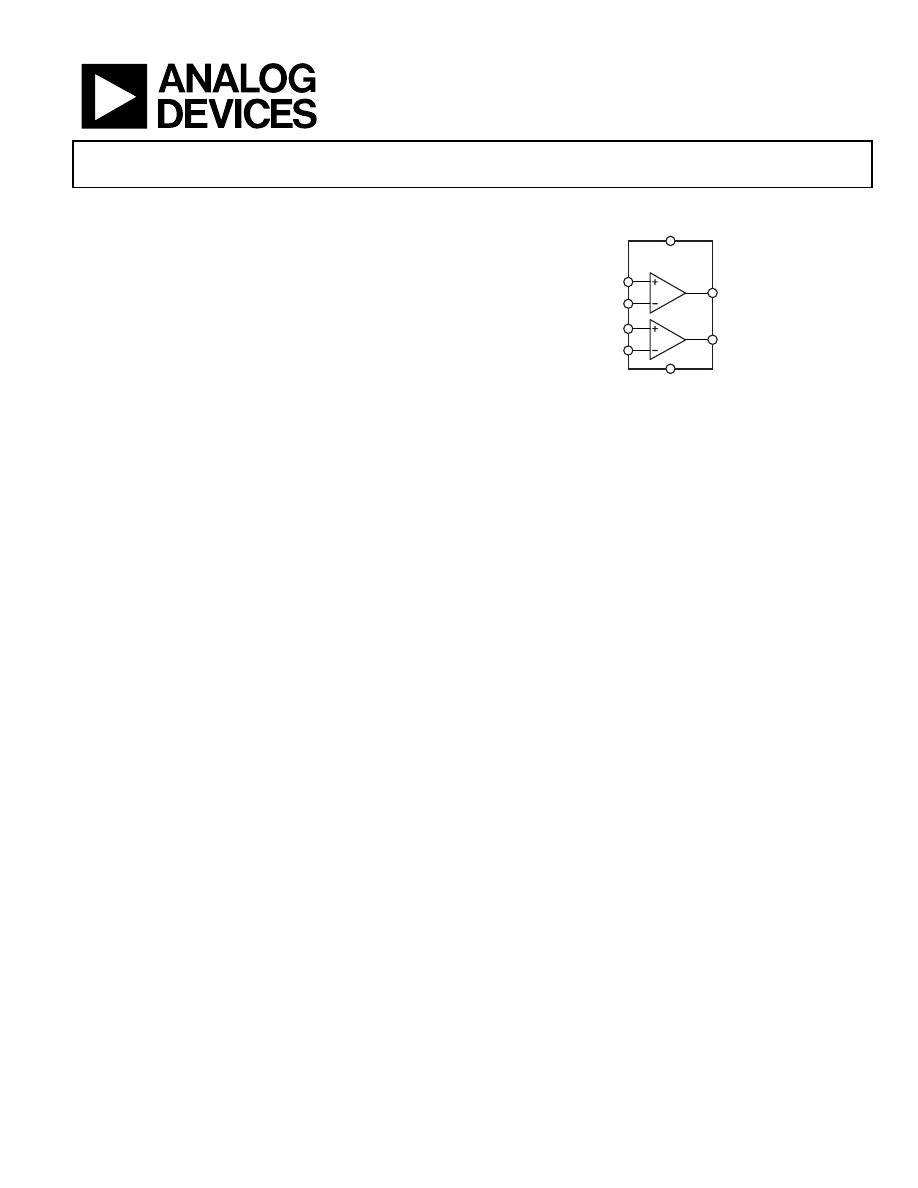 Dual Comparator with 
Known Power-Up State 
Data Sheet 
ADCMP392 
FEATURES 
Single-supply voltage operation: 2.3 V to 5.5 V 
Rail-to-rail common-mode input voltage range  
Low input offset voltage across V
CMR
: 1 mV typical 
Guarantees comparator output logic low from V
CC
 = 0.9 V to 
undervoltage lockout (UVLO) 
Operating temperature range: −40°C to +125°C 
8-lead, narrow body SOIC 
APPLICATIONS 
Battery management/monitoring 
Power supply detection 
Window comparators 
Threshold detectors/discriminators 
Microprocessor systems 
FUNCTIONAL BLOCK DIAGRAM 
Figure 1.  
GENERAL DESCRIPTION 
The 
ADCMP392
 is a dual, rail-to-rail input, low power 
comparator ideal for use in general-purpose applications. The 
device operates from a single supply voltage of 2.3 V to 5.5 V 
and draws a minimal amount of current. The quad 
ADCMP392
consumes only 22.1 µA of supply current. The low voltage and 
low current operation of the 
ADCMP392
 makes it ideal for 
battery-powered systems. 
 
The 
ADCMP392
 features a common-mode input voltage range 
of 200 mV beyond rails, an offset voltage of 1 mV typical across 
the full common-mode range, and a UVLO monitor. In addition, 
the design of the comparator allows a defined output state upon 
power-up. The comparator generates a logic low output if the 
supply voltage is less than the UVLO threshold. 
The 
ADCMP392
 is available in a 8-lead, narrow body SOIC 
package. The 
ADCMP392
 is specified to operate over the 
extended temperature range of −40°C to +125°C. 
OUTA
INA+
INA–
OUTB
INB+
INB–
GND
VCC
ADCMP392
12207-
001
Rev. 0
Document Feedback 
Information furnished by Analog Devices is believed to be accurate and reliable. However, no 
responsibility is assumed by Analog Devices for its use, nor for any infringements of patents or other 
rights of third parties that may result from its use. Specifications subject to change without notice. No 
license is granted by implication or otherwise under any patent or patent rights of Analog Devices. 
Trademarks and registered trademarks are the property of their respective owners. 
One Technology Way, P.O. Box 9106,  Norwood, MA 02062-9106, U.S.A. 
Tel: 781.329.4700 
©2014 Analog Devices, Inc. All rights reserved. 
Technical Support
www.analog.com