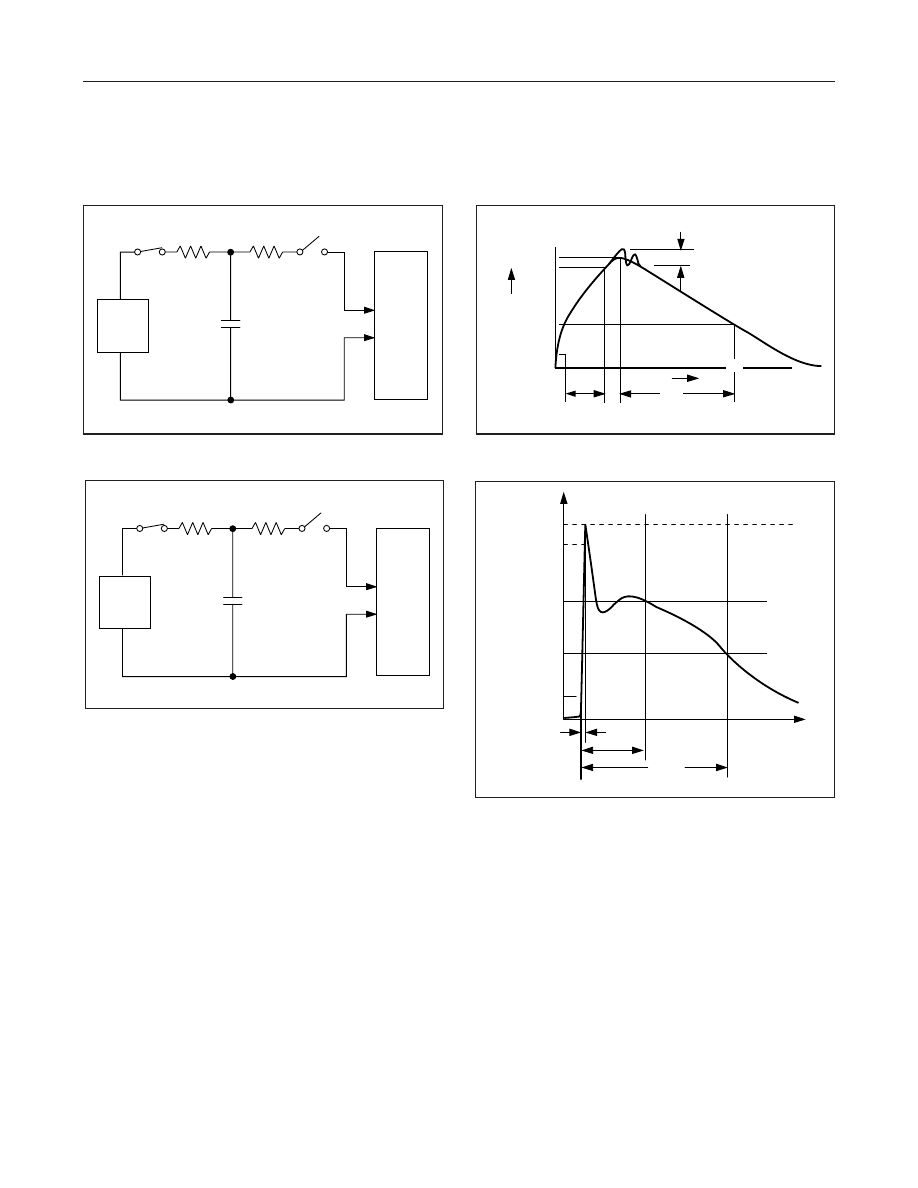 Maxim Integrated  |  12
www.maximintegrated.com
MAX202E–MAX213E,
MAX232E/MAX241E
±15kV ESD-Protected, 
5V RS-232 Transceivers 
est, which is then discharged into the test device
through a 1.5kΩ resistor.
IEC1000-4-2
The IEC1000-4-2 standard covers ESD testing and per-
formance of finished equipment; it does not specifically
refer to integrated circuits. The
MAX202E/MAX203E–MAX213E, MAX232E/MAX241E
help you design equipment that meets level 4 (the high-
est level) of IEC1000-4-2, without the need for addition-
al ESD-protection components.
The major difference between tests done using the
Human Body Model and IEC1000-4-2 is higher peak
current in IEC1000-4-2, because series resistance is
lower in the IEC1000-4-2 model. Hence, the ESD with-
stand voltage measured to IEC1000-4-2 is generally
lower than that measured using the Human Body
Model. Figure 7b shows the current waveform for the
8kV IEC1000-4-2 level-four ESD contact-discharge test.
The air-gap test involves approaching the device with a
charged probe. The contact-discharge method con-
nects the probe to the device before the probe is ener-
gized.
Machine Model
The Machine Model for ESD tests all pins using a
200pF storage capacitor and zero discharge resis-
tance. Its objective is to emulate the stress caused by
contact that occurs with handling and assembly during
manufacturing. Of course, all pins require this protec-
tion during manufacturing, not just RS-232 inputs and
CHARGE-CURRENT-
LIMIT RESISTOR
DISCHARGE
RESISTANCE
STORAGE
CAPACITOR
Cs
150pF
R
C
 50M
Ω to 100MΩ
R
D
 330
Ω
HIGH- 
VOLTAGE
DC
SOURCE
DEVICE
UNDER
TEST
Figure 7a.  IEC1000-4-2 ESD Test Model
tr = 0.7ns to 1ns
30ns
60ns
t
100%
90%
10%
I
PEAK
I
Figure 7b.  IEC1000-4-2 ESD Generator Current Waveform
CHARGE-CURRENT-
LIMIT RESISTOR
DISCHARGE
RESISTANCE
STORAGE
CAPACITOR
Cs
100pF
R
C
 1M
Ω
R
D
 1500
Ω
HIGH-
VOLTAGE
DC
SOURCE
DEVICE
UNDER
TEST
Figure 6a.  Human Body ESD Test Model
I
P
 100%
90%
36.8%
t
RL
TIME
t
DL
CURRENT WAVEFORM
PEAK-TO-PEAK RINGING
(NOT DRAWN TO SCALE)
Ir
10%
0
0
AMPERES
Figure 6b.  Human Body Model Current Waveform