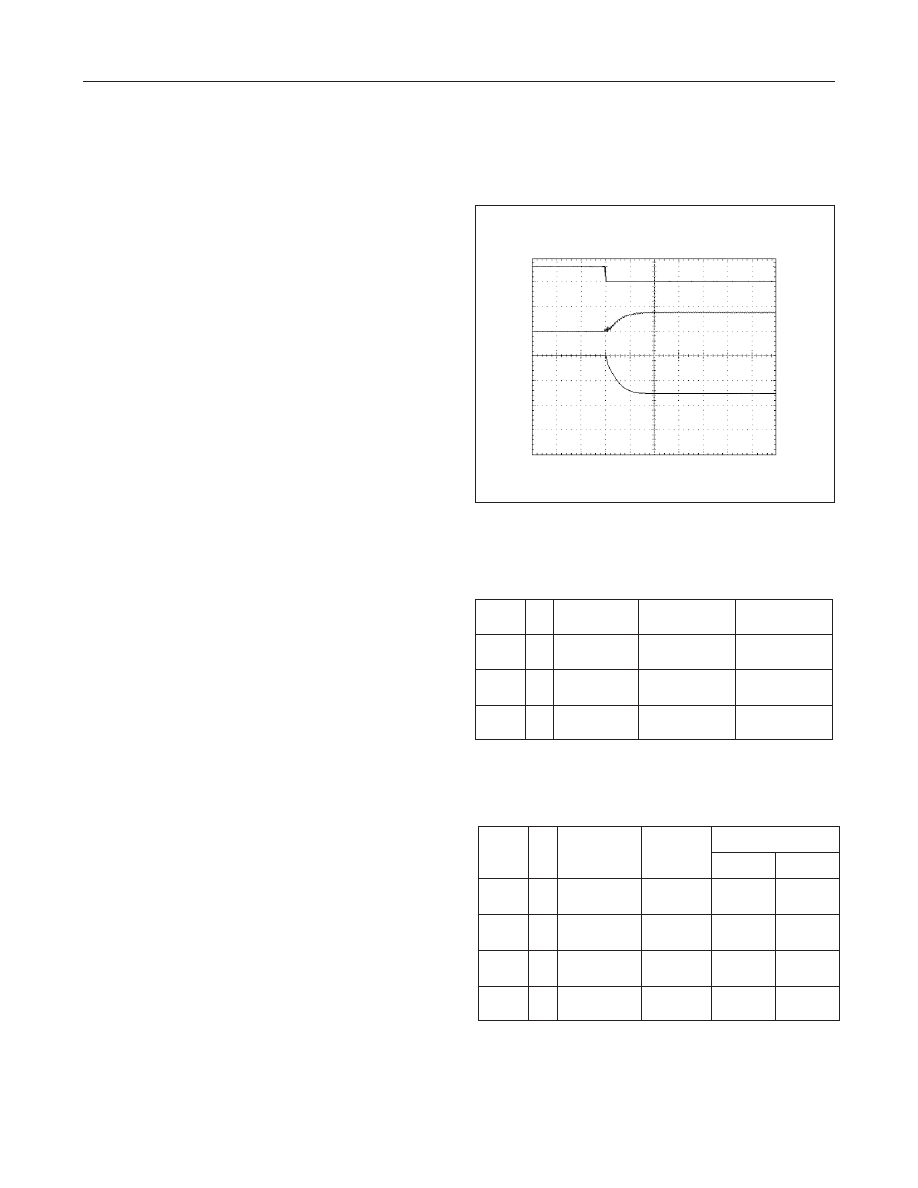 Maxim Integrated  |  11
www.maximintegrated.com
MAX202E–MAX213E,
MAX232E/MAX241E
±15kV ESD-Protected, 
5V RS-232 Transceivers 
V+
V-
200
μs/div
3V
0V
10V
5V
0V
-5V
-10V
SHDN
MAX211E
Figure 5.  MAX211E V+ and V- when Exiting Shutdown (0.1µF
capacitors)
X = Don't care.
*
Active = active with reduced performance
SHDN
E
EN
N
OPERATION
STATUS
Tx
Rx
0
0
Normal
Operation
All Active
All Active
0
1
Normal
Operation
All Active
All High-Z
1
X
Shutdown
All High-Z
All High-Z
Table 1a.  MAX205E/MAX206E/MAX211E/
MAX241E Control Pin Configurations
Table 1b.  MAX213E Control Pin
Configurations
for the MAX205E/MAX206E/MAX211E/MAX241E
(SHDN), but is active low for the MAX213E (
SHDN).
The MAX213E's receiver propagation delay is typically
0.5µs in normal operation. In shutdown mode, propaga-
tion delay increases to 4µs for both rising and falling
transitions. The MAX213E's receiver inputs have
approximately 0.5V hysteresis, except in shutdown,
when receivers R4 and R5 have no hysteresis.
When entering shutdown with receivers active, R4 and
R5 are not valid until 80µs after 
SHDN is driven low.
When coming out of shutdown, all receiver outputs are
invalid until the charge pumps reach nominal voltage
levels (less than 2ms when using 0.1µF capacitors).
±15kV ESD Protection
As with all Maxim devices, ESD-protection structures
are incorporated on all pins to protect against electro-
static discharges encountered during handling and
assembly. The driver outputs and receiver inputs have
extra protection against static electricity. Maxim's engi-
neers developed state-of-the-art structures to protect
these pins against ESD of ±15kV without damage. The
ESD structures withstand high ESD in all states:  normal
operation, shutdown, and powered down. After an ESD
event, Maxim's E versions keep working without latchup,
whereas competing RS-232 products can latch and
must be powered down to remove latchup.
ESD protection can be tested in various ways; the
transmitter outputs and receiver inputs of this product
family are characterized for protection to the following
limits:
1) ±15kV using the Human Body Model
2) ±8kV using the contact-discharge method specified 
in IEC1000-4-2
3) ±15kV using IEC1000-4-2's air-gap method.
ESD Test Conditions
ESD performance depends on a variety of conditions.
Contact Maxim for a reliability report that documents
test set-up, test methodology, and test results.
Human Body Model
Figure 6a shows the Human Body Model, and Figure
6b shows the current waveform it generates when dis-
charged into a low impedance. This model consists of
a 100pF capacitor charged to the ESD voltage of inter-
S
SH
HD
DN
N EN
OPERATION
STATUS
Tx 1–4
0
0
Shutdown
All High-Z
0
1
Shutdown
All High-Z
1
0
Normal
Operation
1
1
Normal
Operation
All Active
All Active
Active
1–3
4, 5
High-Z
Active
High-Z
High-Z
High-Z
Active*
High-Z
Rx