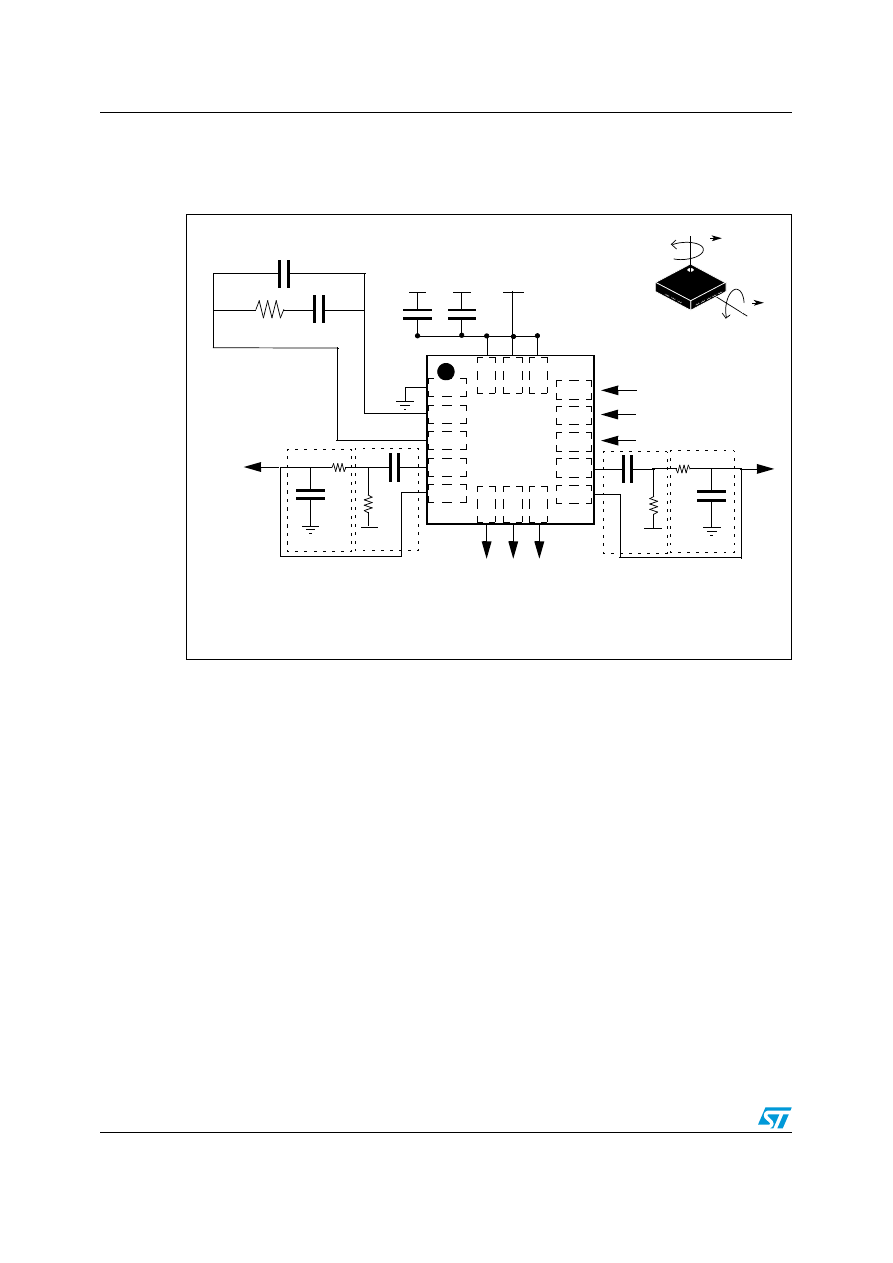 Application hints
LPY530AL
8/12
 Doc ID 15807 Rev 2
4 Application 
hints
Figure 3.
LPY530AL electrical connections and external components values
Power supply decoupling capacitors (100 nF ceramic or polyester + 10 µF Aluminum) 
should be placed as near as possible to the device (common design practice).
The LPY530AL allows band limiting the output rate response through the use of an external 
low pass filter (suggested) and/or high pass filter (optional) in addition to the embedded low 
pass filter (f
t
 = 140 Hz).
4xOUTX and 4xOUTZ are respectively OUTX and OUTZ amplified outputs lines, internally 
buffered to ensure low output impedance.
If external high pass or low pass filtering is not applied it is mandatory to short-circuit 
respectively pad 4 to pad 5 and pad 9 to pad 10 when amplified outputs are used.
When only not-amplified output are used (OUTX/Z), it is suggested to set pads 5 and 9 to 
fixed reference voltage (Vref).
When high pass filter is applied to not amplified output (OUTx), it is recommended to buffer 
the line before entering ADC for performance optimization.
The LPY530AL IC includes a PLL (phase locked loop) circuit to synchronize driving and 
sensing interfaces. Capacitors and resistors must be added at FILTVDD and VCONT pins 
(as shown in 
Figure 3
) to implement a low-pass filter.
100 nF
10kOhm
470nF
Vdd
GND
HP
Vref
4xOUTX
C2
R1
C1
GND
10 µF
GND
Recomended
Low-pass filter
LPY530AL
(Top View)
1
16
14
13
9
8
6
5
10nF
PD
ST
GND
Vref
4x
OU
T
Z
Optional
High-pass filter
Vref
GND
Typical values:
C1
R1
C2
R2
C1
R1
C2
R2
R1 = 1MOhm
C1 = 4.7 uF
R2 = 33kOhm
C2 = 2.2nF to 2.2uF
Not amplified
(TOP VIEW)
DIRECTION OF THE
DETECTABLE
ANGULAR RATES
+Ω
x
+Ω
z
filtered output X
Not amplified
filtered output Z
      Obsolete Product(s) - Obsolete Product(s)