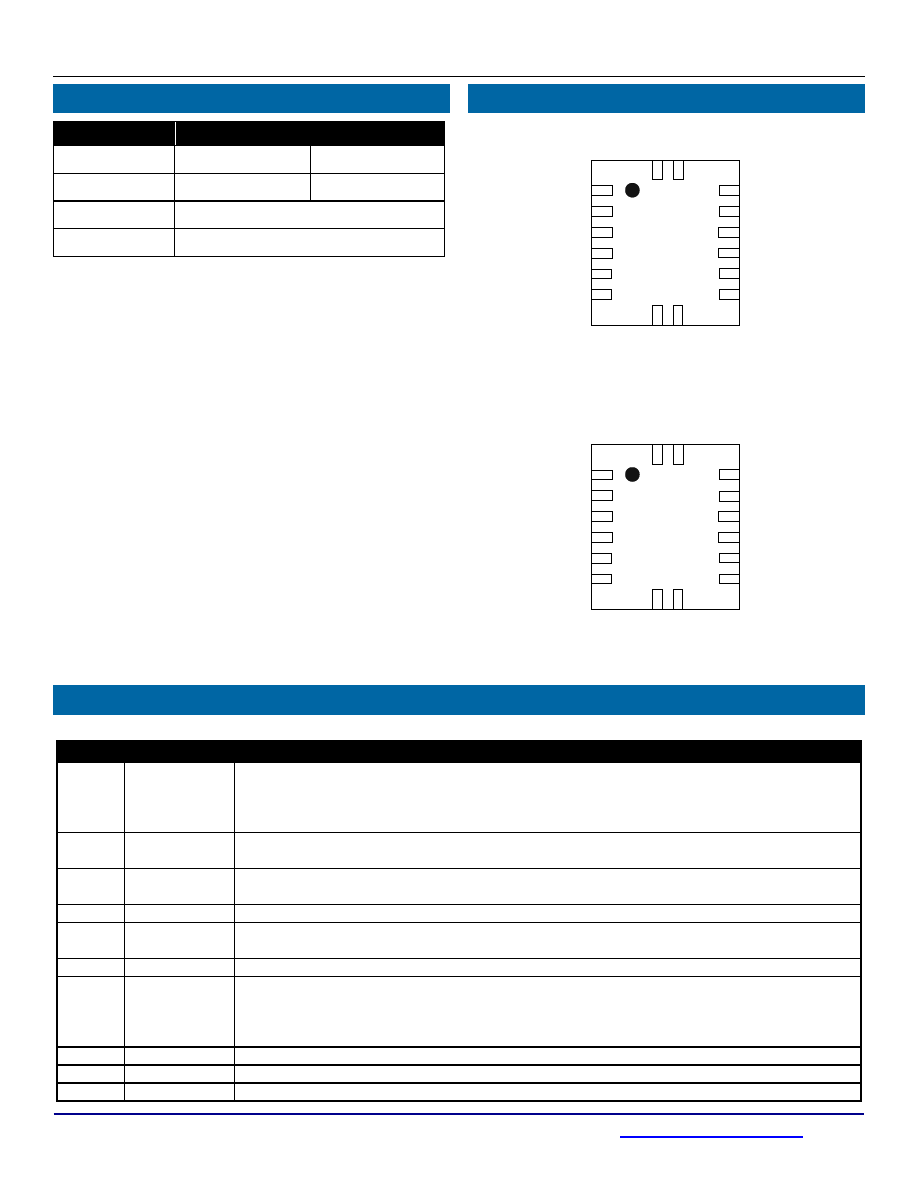 EP5358LUI/EP5358HUI
Ordering Information 
Part Number 
Comment 
Package 
EP5358LUI 
LOW VID Range 
16-pin QFN T&R 
EP5358HUI 
HIGH VID Range 
16-pin QFN T&R 
EVB-EP5358LUI
EP5358LUI Evaluation Board 
EVB-EP5358HUI
EP5358HUI Evaluation Board 
Pin Assignments (Top View) 
Figure 3: EP5358LUI Pin Out Diagram (Top View) 
Figure 4: EP5358HUI Pin Out Diagram (Top View) 
Pin Description 
PIN 
NAME 
FUNCTION 
1, 15, 
16 
NC(SW) 
NO CONNECT – These pins are internally connected to the common switching node of the 
internal MOSFETs. NC (SW) pins are not to be electrically connected to any external signal, 
ground, or voltage. However, they must be soldered to the PCB.  Failure to follow this 
guideline may result in part malfunction or damage to the device. 
2,3 
PGND 
Power ground.  Connect these pins together and to the ground electrode of the Input and 
output filter capacitors. 
4 
VFB/NC 
EP5358LUI: Feed back pin for external divider option. 
EP5358HUI: No Connect 
5 
VSENSE 
Sense pin for preset output voltages.  Refer to application section for proper configuration. 
6 
AGND 
Analog ground.  This is the quiet ground for the internal control circuitry, and the  ground 
return for external feedback voltage divider 
7, 8 
VOUT 
Regulated Output Voltage.  Refer to application section for proper layout and decoupling. 
9, 10, 
11 
VS2, VS1, 
VS0 
Output voltage select. VS2 = pin 9, VS1 = pin 10, VS0 = pin 11.   
EP5358LUI: Selects one of seven preset output voltages or an external resistor divider. 
EP5358HUI: Selects one of eight preset output voltages. 
 (Refer  to section on output voltage select for more details.) 
12 
ENABLE 
Output Enable.  Enable = logic high; Disable = logic low 
13 
AVIN 
Input power supply for the controller circuitry. 
14 
PVIN 
Input Voltage for the MOSFET switches. 
PVIN
AVIN
ENABLE
VS0
VS1
VS2
NC(SW)
PGND
PGND
VFB
VSENSE
AGND
VOU
T
VOU
T
N
C
(SW
)
N
C
(SW
)
E
P
5358LU
I
3
1
4
2
6
5
16
15
7
8
12
11
13
10
9
14
PVIN
AVIN
ENABLE
VS0
VS1
VS2
NC(SW)
PGND
PGND
NC
VSENSE
AGND
VOU
T
VOU
T
N
C
(SW
)
N
C
(SW
)
EP5
3
5
8
HUI
3
1
4
2
6
5
16
15
7
8
12
11
13
10
9
14
www.altera.com/enpirion
  Page 2 
03541
October 11, 2013
Rev F