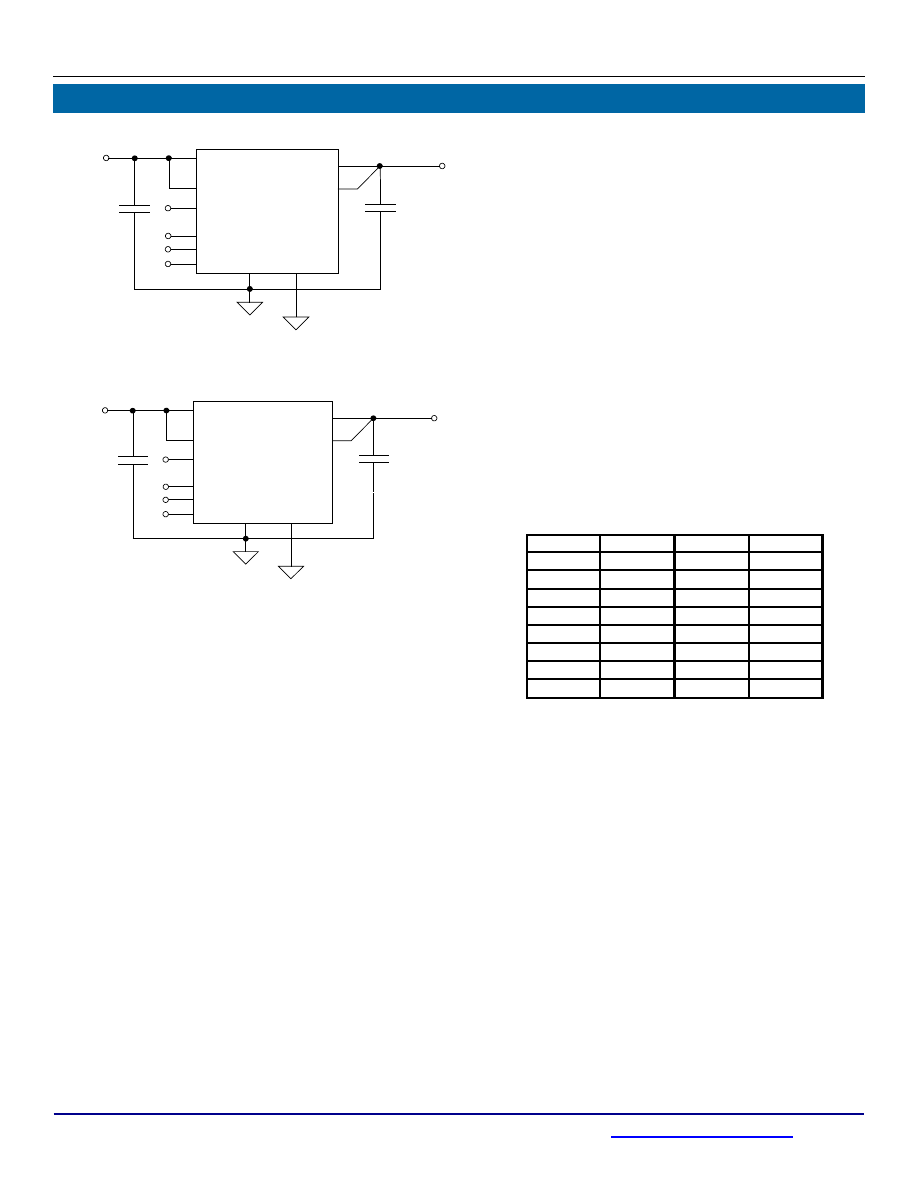 EP5358LUI/EP5358HUI
Application Information 
V
IN
VSENSE
PVIN
V
S1
V
S2
V
S0
10
µF
4.7
µF
V
OUT
VOUT
AGND
ENABLE
PGND
AVIN
Figure 6: Application Circuit, EP5358HUI,.
V
IN
VSENSE
PVIN
V
S1
V
S2
V
S0
10
µF
4.7
µF
V
OUT
VOUT
AGND
ENABLE
VFB
PGND
AVIN
Figure 7: Application Circuit, EP5358LUI, showing 
the V
FB
 function.
Output Voltage Programming 
The  EP5358xUI utilizes a 3-pin VID to program 
the output voltage value.  The VID is available 
in two sets of output VID programming ranges.  
The VID pins should be connected either to 
AVIN or to AGND to avoid noise coupling into 
the device.   
The "Low" range is optimized for low voltage 
applications.  It comes with preset VID settings 
ranging from 0.80V and 1.5V.  This VID set 
also has an external divider  option.   
To specify this VID range, order part number 
EP5358LUI. 
The "High" VID set provides output voltage 
settings ranging from 1.8V to 3.3V.  This 
version does not have an external divider 
option.  To specify this VID range, order part 
number EP5358HUI. 
Internally, the output of the VID multiplexer 
sets the value for the voltage reference DAC, 
which in turn is connected to the non-inverting 
input of the error amplifier.  This allows the use 
of a single feedback divider with constant loop 
gain and optimum compensation, independent 
of the output voltage selected. 
NOTE: The VID pins must not be left floating. 
EP5358L Low VID Range Programming 
The  EP5358LUI is designed to provide a high 
degree of flexibility in powering applications 
that require low V
OUT
  settings and dynamic 
voltage scaling (DVS).  The device employs a 
3-pin VID architecture that allows the user to 
choose one of seven (7) preset output voltage 
settings, or the user can select an external 
voltage divider option.  The VID pin settings 
can be changed on the fly to implement glitch-
free voltage  scaling.   
Table 1: EP5358LUI VID Voltage Select Settings 
Table  1  shows the VS2-VS0 pin logic states for 
the  EP5358LUI and the associated output 
voltage levels.  A logic "1" indicates a 
connection to AVIN or to a "high" logic voltage 
level.  A logic "0" indicates a connection to 
AGND or to a "low" logic voltage level.  These 
pins can be either hardwired to AVIN or AGND 
or alternatively can be driven by standard logic 
levels.  Logic levels are defined in the electrical 
characteristics table.  Any level between the 
logic high  and logic low is indeterminate.     
EP5358LUI External Voltage Divider 
The external divider option is chosen by 
connecting VID pins VS2-VS0 to V
IN
  or a logic 
"1" or "high".  The EP5358LUI uses a separate 
feedback pin, V
FB
, when using the external 
divider.  V
SENSE
  must be connected to V
OUT
  as 
indicated in figure 8.   
VS2
VS1
VS0
VOUT
0
0
0
1.50
0
0
1
1.45
0
1
0
1.20
0
1
1
1.15
1
0
0
1.10
1
0
1
1.05
1
1
0
0.8
1
1
1
EXT
www.altera.com/enpirion
  Page 11 
03541
October 11, 2013
Rev F