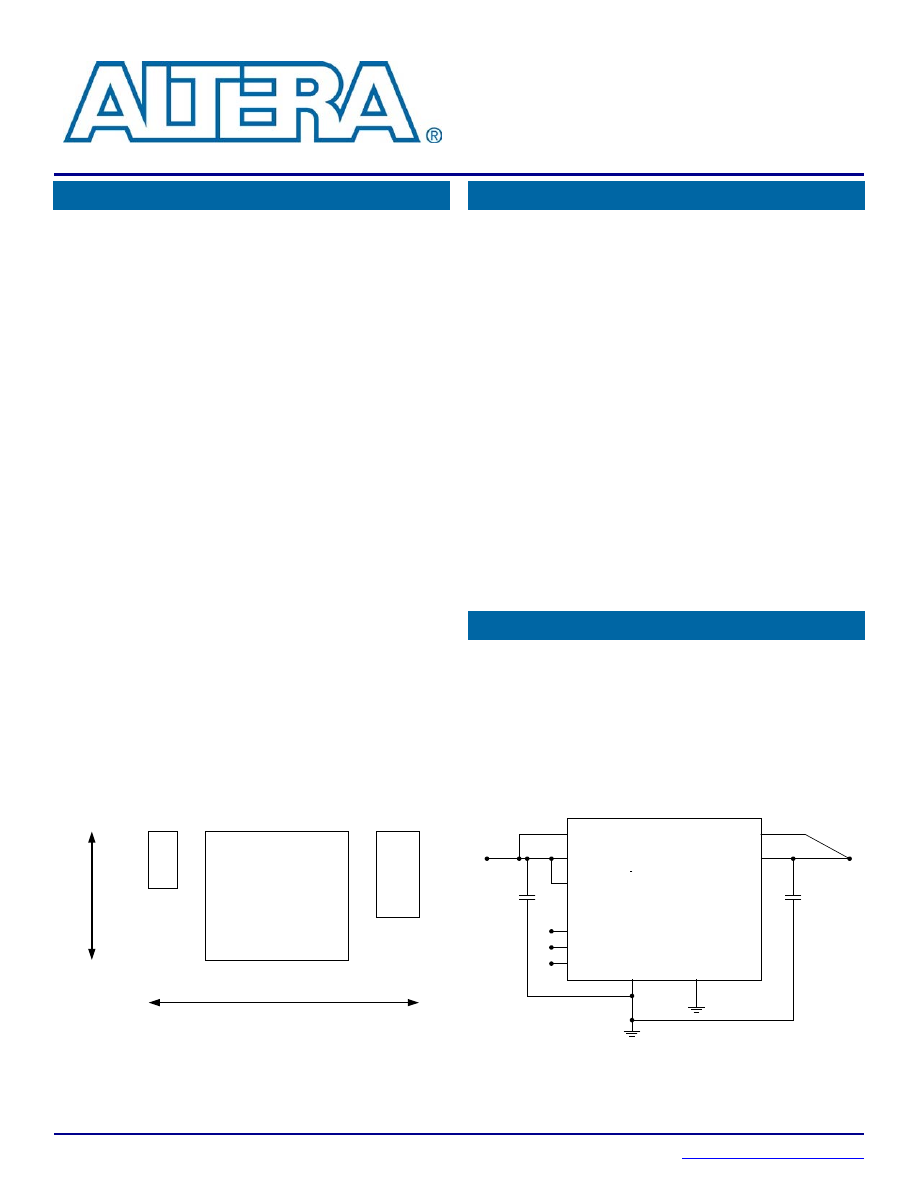 Enpirion
®
 Power Datasheet 
EP5358xUI  600mA PowerSoC 
Synchronous  Buck Regulator 
with Integrated Inductor 
Description 
The  EP5358xUI (x = L or H) is rated for up to 
600mA  of continuous output current.  The 
EP5358xUI integrates MOSFET switches, 
control, compensation, and the magnetics in an 
advanced 2.5mm x 2.25mm micro-QFN 
Package.   
Integrated magnetics enables a tiny solution 
footprint, low output ripple, low part-count, and 
high reliability, while maintaining high efficiency. 
The complete solution can be implemented in as 
little  as 14mm
2
.  
The  EP5358xUI uses a 3-pin VID to easily select 
the output voltage setting.  Output voltage 
settings are available in 2 optimized ranges 
providing  coverage for typical V
OUT
 settings.   
The VID pins can be changed on the fly for fast 
dynamic voltage scaling. EP5358LUI further has 
the option to use an external voltage  divider.   
The EP5358xUI is a perfect solution for noise 
sensitive and space constrained applications that 
require  high efficiency.   
EP5358xUI
2
.2
u
F
1
0
u
F
4.75mm
2
.2
5
m
m
Figure 1: Total Solution Footprint. 
Features 
•  Integrated Inductor Technology   
•  2.5mm x 2.25mm x 1.1mm uQFN package  
•  Total Solution Footprint 14mm
2
•  Low V
OUT
 ripple  for RF compatibility 
•  High efficiency, up to 93% 
•  Up to 600mA continuous output current 
•  Less than 1µA standby current 
•  5 MHz switching frequency 
•  3 pin VID for glitch free voltage scaling 
•  V
OUT
 Range 0.6V to V
IN
  – 0.25V 
•  Short circuit and over current protection 
•  UVLO and thermal protection 
•  IC level reliability  in a PowerSOC solution 
Application 
•  Wireless and RF applications 
•  Wireless broad band data cards 
•  Small form factor optical modules 
•  Low noise FPGA IO and Transceivers 
•  Advanced  Low Power Processors, DSP, IO, 
Memory, Video, Multimedia  Engines 
Figure 2: Typical Application Schematic 
V
OUT
2.2uF
PGND
EP5358HUI
ENABLE
PV
IN
V
S0
V
S1
V
S2
V
SENSE
V
OUT
10uF
AGND
AV
IN
V
IN
www.altera.com/enpirion
03541
October 11, 2013
Rev F