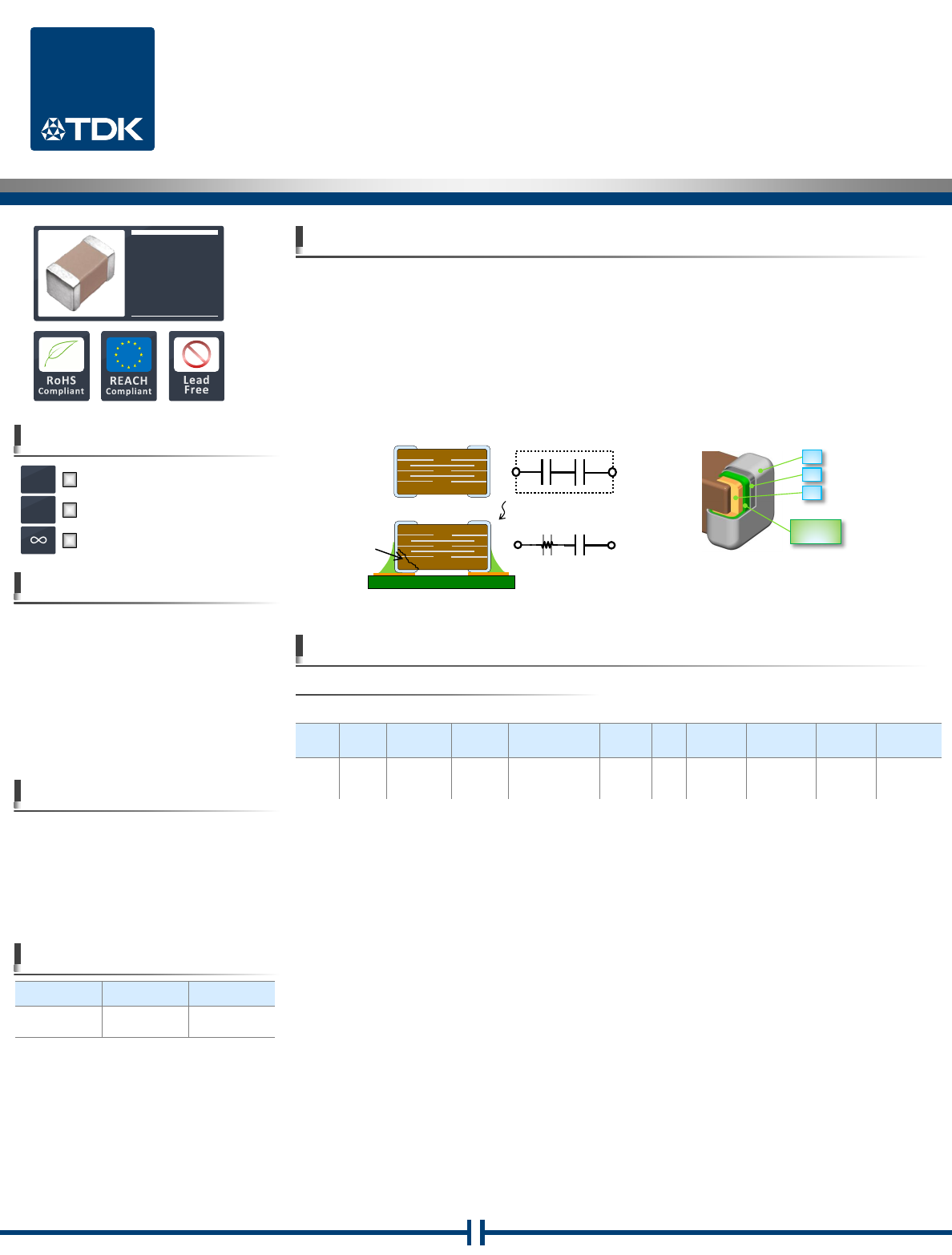 MULTILAYER CERAMIC CAPACITOR 
SERIAL DESIGN 
          Automotive  design  often  employs  two  distinct  capacitors  in  a  series  on  the  PCB  for  power 
supply  and  battery  line  to  protect  the  circuit  from  a  short  in  case  of  cracking  of  the  MLCC.    In 
conjunction  with  our  existing  soft  electrode  technology,  TDK  offers  2  capacitors  in  single  body 
construction  in  our  CEU  product  line  for  ultra  high  reliability.    Serial  construction  of  inner  electrode 
prevents  sudden  insulation  breakdown  after  flex  crack  formation  and  soft  termination  technology 
allows  for  better  absorption  of  external  stress  and  protects  the  ceramic  body.    The  combination  of 
these  technologies  yield  improved  voltage  and  ESD  performance  over  standard  designs  and 
decrease risk of short circuit failures and low IR due to mechanical flex cracks.  Soft termination also 
allow for better performance with thermal expansion and contraction. 
Series Overview 
Applications 
Design Advantage 
 Employs two distinct technologies 
      
 Floating electrode serial design 
 Conductive resin soft termination  
 Short circuit protection from cracking 
 Fail-open design 
 Excellent thermal cycle performance 
 Ultra-high reliability 
 RoHS, WEE and REACH compliant  
 CDF-AEC-Q200 compliant (automotive) 
 T/C:  X7R 
 Do you have a battery direct circuit? 
 Is short-circuit safety required? 
 Do you have a high current circuit? 
 Do you have excessive board flex? 
 Are you designing a power bus circuit? 
 Do you need automotive grade? 
Case Size 
Voltage 
Cap Range 
CEU3 / 0603 
50 - 100V 
1nF - 47nF 
CEU4 / 0805 
50 - 100V 
1nF - 100nF 
Design Questions 
Characteristics 
Ordering Information 
AUTOMOTIVE GRADE 
CEU 
4 
J 
2 
X7R 
1H  104 
K 
125 
A 
E 
Series 
Name 
Case 
Size 
Thickness 
Code 
Life Test 
Condition 
Temperature 
Characteristics 
Voltage 
Code 
Cap 
Code 
Cap 
Tolerance 
Thickness 
Packaging 
Code 
Special 
Code 
CEU 
3 = C1608  E = 0.80mm 
2 = 2xRV 
X7R (±15%) 
1H = 50V 
102 
K = ±10% 
080 = 0.80mm  B = 7" Reel/ 
2mm Pitch 
E = Soft 
Termination 
4 = C2012  J = 1.25mm 
2A = 100V 
to  
M = ±20%  115 = 1.15mm 
104 
Ultra High Reliability Features! 
+ 
 Conductive resin electrode layer absorbs 
external stress and protects ceramic body. 
 Serial construction of inner electrode prevents 
sudden  insulation breakdown after flex crack formation. 
Crack 
Sn 
Ni 
Cu 
Resin 
Electrode 
Soft Termination 
CA
P
A
CI
T
O
R
www.tdk.com  • www.global.tdk.com 
©TDK Corporation of America 
– Contents are subject to change without notice. 
C
19
COMMERCIAL GRADE 
 
AUTOMOTIVE GRADE 
 
HIGH RELIABILITY 
LONG 
LIFE 
 
SERIAL 
DESIGN 
CERAMIC 
CAPACITOR 
Pb