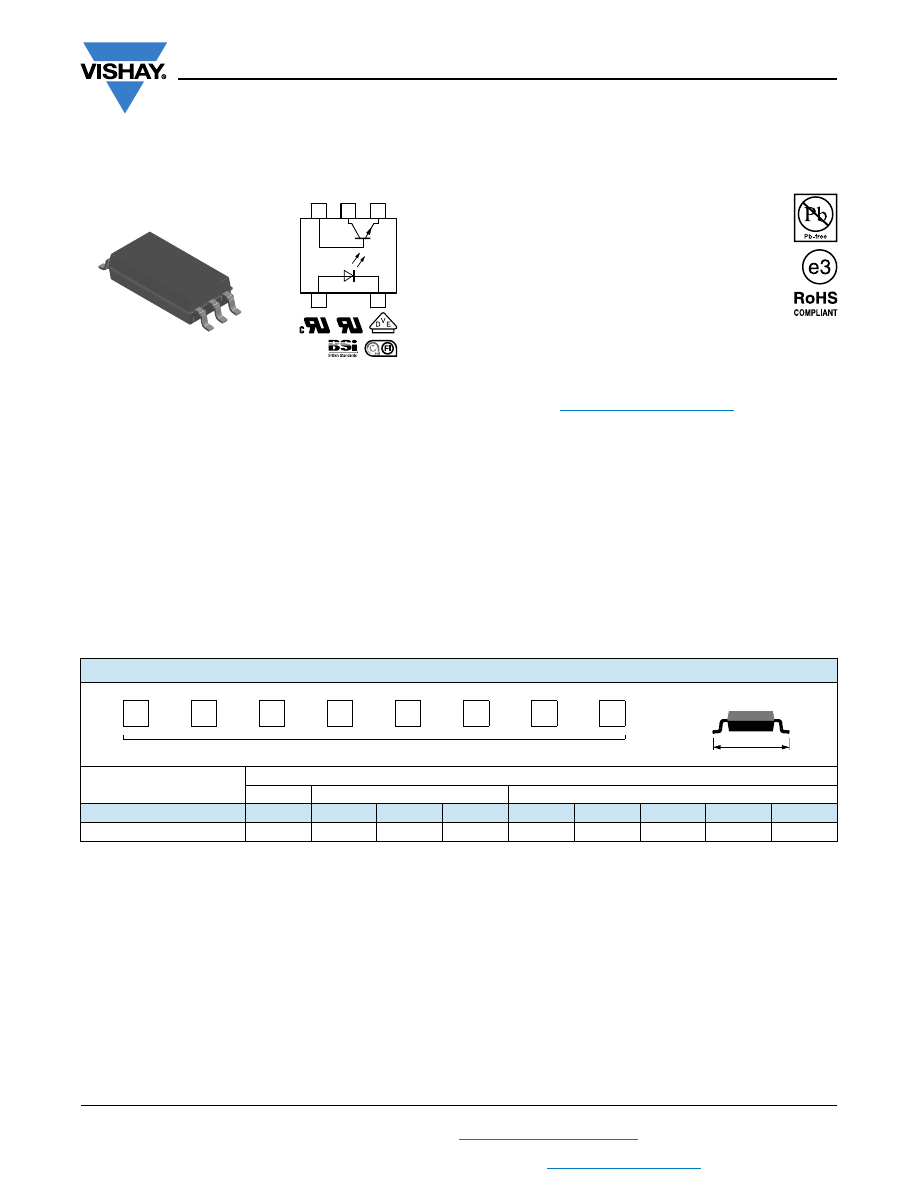 TCLT110. Series
www.vishay.com
Vishay Semiconductors
Rev. 2.5, 16-May-13
1
Document Number: 83514
For technical questions, contact: 
optocoupleranswers@vishay.com
THIS DOCUMENT IS SUBJECT TO CHANGE WITHOUT NOTICE. THE PRODUCTS DESCRIBED HEREIN AND THIS DOCUMENT
ARE SUBJECT TO SPECIFIC DISCLAIMERS, SET FORTH AT 
www.vishay.com/doc?91000
Optocoupler, Phototransistor Output, SOP-6L5,
Half Pitch, Long Mini-Flat Package
DESCRIPTION
The TCLT110. series consists of a phototransistor optically 
coupled to a gallium arsenide infrared-emitting diode in a 
5-lead SOP-6L package.
APPLICATIONS
• Switchmode power supplies
• Computer peripheral interface
• Microprocessor system interface
FEATURES
• SMD low profile 5 pin package
• Isolation test voltage 5000 V
RMS
• CTR flexibility available see order information
• Special construction
• Extra low coupling capacitance
• Connected base
• DC input with transistor output
• Creepage distance > 8 mm
• Material categorization: For definitions of compliance 
please see 
www.vishay.com/doc?99912
AGENCY APPROVALS
• UL1577, file no. E76222
• CSA E76222 22.2 bulletin 5A 
• BSI IEC 60950 IEC 60065
• DIN EN 60747-5-5
• FIMKO 
• CQC
Note
• See the safety standard approval list "Agency Table" for more 
detailed information.
5
4
3
1
2
22649
ORDERING INFORMATION
T
C
L
T
1
1
0
#
PART NUMBER
AGENCY

CERTIFIED/PACKAGE
CTR (%)
5 mA
10 mA
5 mA
UL, cUL, VDE, BSI, FIMKO
50 to 600
63 to 125
100 to 200 160 to 320
50 to 150
100 to 300
80 to 160
130 to 260 200 to 400
SOP-6L5
TCLT1100 TCLT1102 TCLT1103 TCLT1104 TCLT1105 TCLT1106 TCLT1107 TCLT1108 TCLT1109
10.2 mm
SOP-6L5