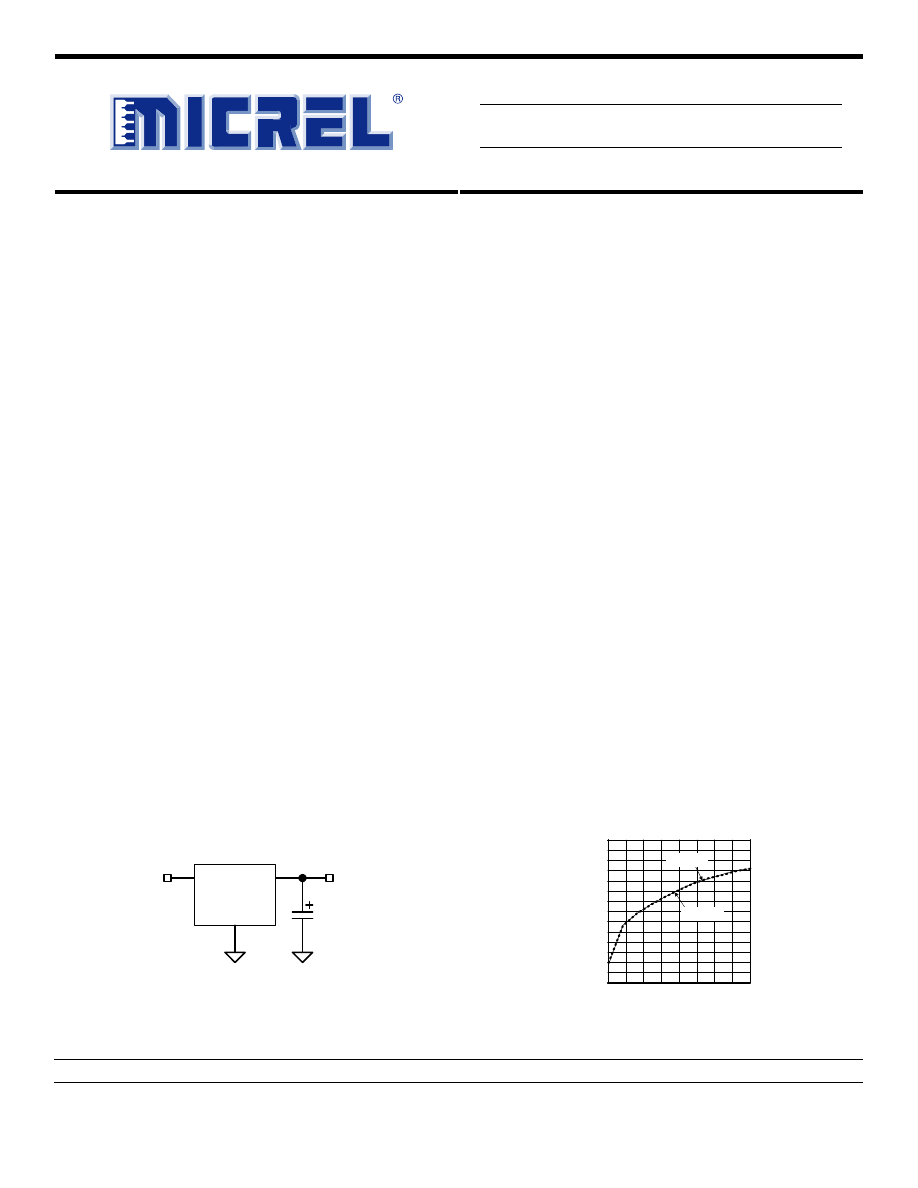 MIC37100/37101/37102 
1A Low-Voltage µCap LDO 
Super βeta PNP is a registered trademark of Micrel, Inc. 
PowerPC is a registered trademark of IBM Corporation
Micrel Inc. • 2180 Fortune Drive • San Jose, CA 95131 • USA • tel +1 (
408
) 944-0800 • fax + 1 (408) 474-1000 • http://www.micrel.com 
September 2007
M9999-090607 
General Description
The MIC37100, MIC37101, and MIC37102 are 1A low-
dropout, linear voltage regulators that provide low-voltage, 
high-current output from an extremely small package. 
Utilizing Micrel's proprietary Super βeta PNP
®
 pass 
element, the MIC37100/01/02 offers extremely low dropout 
(typically 280mV at 1A) and low ground current (typically 
11mA at 1A). 
The MIC37100 is a fixed output regulator offered in the 
SOT-223 package. The MIC37101 and MIC37102 are 
fixed and adjustable regulators, respectively, in a thermally 
enhanced power 8-pin SOIC (small outline package) and 
the SOT-223 package. The MIC37102 is also available in 
the S-PAK power package, for applications that require 
higher power dissipation or higher operating ambient 
temperatures. 
The MIC37100/01/02 is ideal for PC add-in cards that 
need to convert from standard 5V to 3.3V, 3.3V to 2.5V or 
2.5V to 1.8V or lower. A guaranteed maximum dropout 
voltage of 500mV over all operating conditions allows the 
MIC37100/01/02 to provide 2.5V from a supply as low as 
3V and 1.8V from a supply as low as 2.3V. 
The MIC37100/01/02 is fully protected with overcurrent 
limiting and thermal shutdown. Fixed output voltages of 
1.5V, 1.65V, 1.8V, 2.5V and 3.3V are available on 
MIC37100/01 with adjustable output voltages to 1.24V on 
MIC37102. 
Data sheets and support documentation can be found on 
Micrel's web site at: www.micrel.com. 
Features
•  Fixed and adjustable output voltages to 1.24V 
•  µCap Regulator, 10µF ceramic output capacitor stable 
•  280mV typical dropout at 1A 
–  Ideal for 3.0V to 2.5V conversion 
–  Ideal for 2.5V to 1.8V, 1.65V or 1.5V conversion 
•  1A minimum guaranteed output current 
•  1% initial accuracy 
• Low ground 
current 
•  Current limiting and thermal shutdown 
• Reversed-leakage protection 
•  Fast transient response 
• Low-profile SOT-223 package 
• Power SO-8 
package 
•  S-PAK package (MIC37102 only) 
 
Applications 
•  LDO linear regulator for PC add-in cards 
• PowerPC
®
 power supplies 
• High-efficiency linear power supplies 
•  SMPS post regulator 
•  Multimedia and PC processor supplies 
• Battery chargers 
• Low-voltage microcontrollers and digital logic 
___________________________________________________________________________________________________________ 
 
Typical Application 
IN
2.5V
V
IN
3.3V
10F
ceramic
OUT
GND
MIC37100
2.5V/1A Regulator 
0
50
100
150
200
250
300
350
0
0.25
0.5
0.75
1
DROP
O
UT
 (
m
V)
OUTPUT CURRENT (A)
Dropout
vs. Output Current
2.5V
OUT
3.3V
OUT