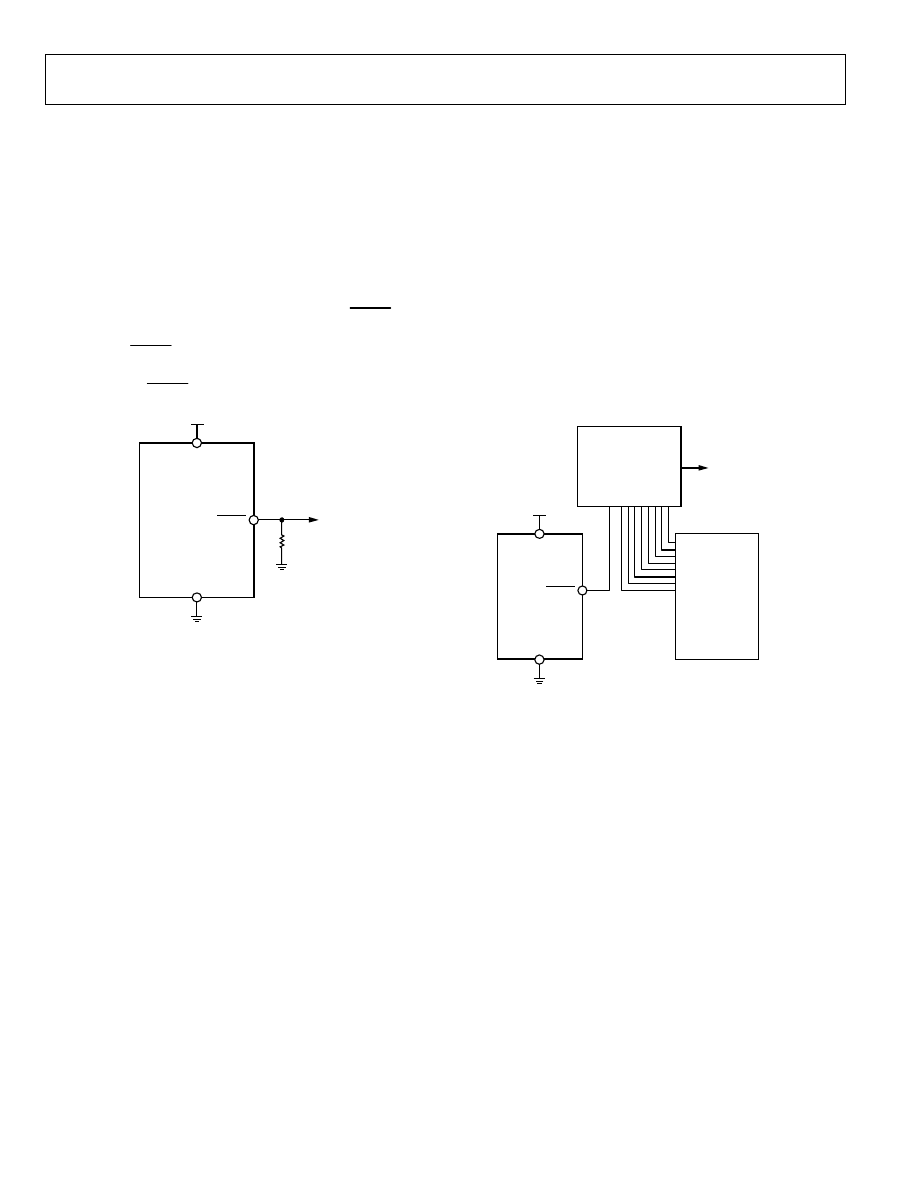 ADM803/ADM809/ADM810 
Data Sheet
Rev. I | Page 8 of 11 
INTERFACING TO OTHER DEVICES 
The 
ADM803
/
ADM809
/
ADM810
 series is designed to integrate 
with as many devices as possible and, therefore, has a standard 
output dependent on V
CC
. This enables the parts to be used in 
both 3 V and 5 V, or any nominal voltage within the minimum 
and maximum specifications for V
CC
. This design simplifies 
interfacing the 
ADM803
/
ADM809
/
ADM810
 to other devices.  
ENSURING A VALID RESET OUTPUT DOWN TO 
V
CC
 = 0 V  
When V
CC
 falls below 0.8 V, the 
ADM803
/
ADM809
 RESET no 
longer sinks current. A high impedance CMOS logic input 
connected to RESET may, therefore, drift to undetermined logic 
levels. To eliminate this problem, a 100 kΩ resistor should be 
connected from RESET to ground.  
Figure 12. Ensuring a Valid Reset Output Down to V
CC
 = 0 V  
BENEFITS OF AN ACCURATE RESET THRESHOLD  
In other microprocessors, tolerances in supply voltages lead  
to an overall increase in reset tolerance levels due to the 
deterioration of the reset circuit's power supply. In the 
ADM803
/
ADM809
/
ADM810
, the possibility of a malfunction 
during a power failure is greatly reduced because the devices 
can operate effectively even when there are large degradations 
of the supply voltages. Another advantage is the very accurate 
internal voltage reference circuit of the 
ADM803
/
ADM809
/ 
ADM810
. These benefits combine to produce an exceptionally 
reliable voltage monitor circuit.  
INTERFACING TO MICROPROCESSORS WITH 
MULTIPLE INTERRUPTS  
In a number of cases, it is necessary to interface many interrupts 
from different devices (for example, thermal, altitude, and 
velocity sensors). The 
ADM803
/
ADM809
/
ADM810
 can easily 
be integrated into existing interrupt-handling circuits, as shown 
in Figure 13, or can be used as standalone devices.  
Figure 13. Interfacing to Microprocessors with Multiple Interrupts  
GND
ADM809
V
CC
V
CC
RESET
0
373
6-
0
11
4-LINE BCD TO
MICROPROCESSOR
ADM809
GND
V
CC
V
CC
RESET
OTHER SENSING
DEVICES
PRIORITY ENCODER
74LS147
03
736
-01
2