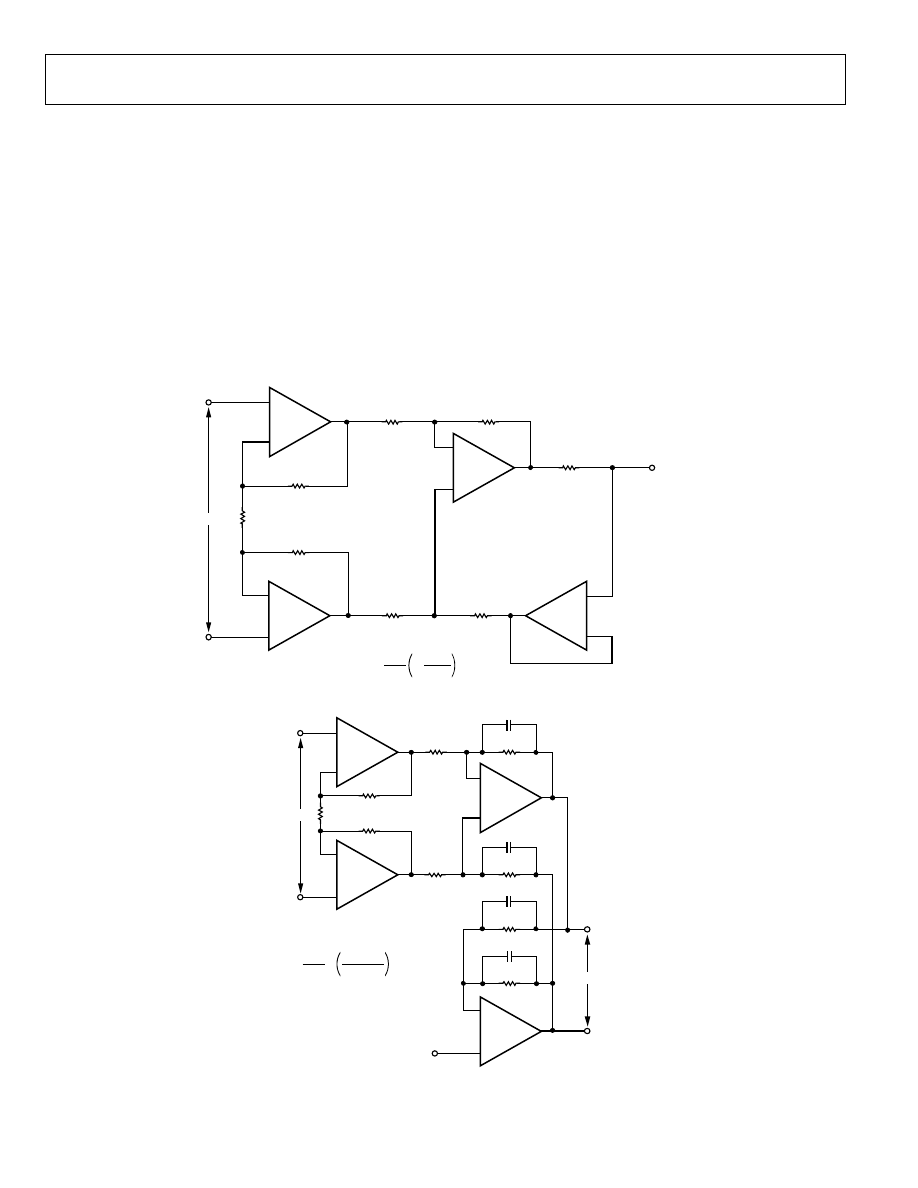 OP400 
Data Sheet 
Rev. H | Page 12 of 16 
BIPOLAR CURRENT TRANSMITTER 
In the circuit of Figure 32, which is an extension of the standard 
three op amp instrumentation amplifier, the output current is 
proportional to the differential input voltage. Maximum output 
current is ±5 mA, with voltage compliance equal to ±10 V when 
using ±15 V supplies. Output impedance of the current 
transmitter exceeds 3 MΩ, and linearity is better than 16 bits 
with gain set for a full-scale input of ±100 µV. 
DIFFERENTIAL OUTPUT INSTRUMENTATION 
AMPLIFIER 
The output voltage swing of a single-ended instrumentation 
amplifier is limited by the supplies, normally at ±15 V, to  
a maximum of 24 V p-p. The differential output instrumenta-
tion amplifier shown in Figure 33 can provide an output voltage 
swing of 48 V p-p when operated with ±15 V supplies. The 
extended output swing is due to the opposite polarity of the 
outputs. Both outputs swing 24 V p-p, but with opposite 
polarity, for a total output voltage swing of 48 V p-p. The reference 
input can be used to set a common-mode output voltage over the 
range ±10 V. The PSRR of the amplifier is less than 1 µV/V with 
CMRR (G = 1000) better than 115 dB. Offset voltage drift is 
typically 0.4 µV/°C over the military temperature range. 
00304-
031
–
+
V
OUT
I
OUT
5mA
I
OUT
V
IN
50,000
200Ω
200Ω
R
G
25kΩ
25kΩ
25kΩ
25kΩ
25kΩ
25kΩ
R
G
–
–
1
V
IN
   1/4
OP400E
+
–
   1/4
OP400E
+
–
       1/4
OP400E
+
–
   1/4
OP400E
+
–
Figure 32. Bipolar Current Transmitter 
–
+
00304-
032
V
OUT
V
IN
R
G
25kΩ
25kΩ
25kΩ
25kΩ
25kΩ
22pF
22pF
22pF
22pF
25kΩ
25kΩ
25kΩ
V
OUT
V
IN
=
50kΩ + R
G
R
G
REFERENCE
INPUT
   1/4
OP400A
+
–
   1/4
OP400A
+
–
   1/4
OP400A
+
–
   1/4
OP400A
+
–
Figure 33. Differential Output Instrumentation Amplifier