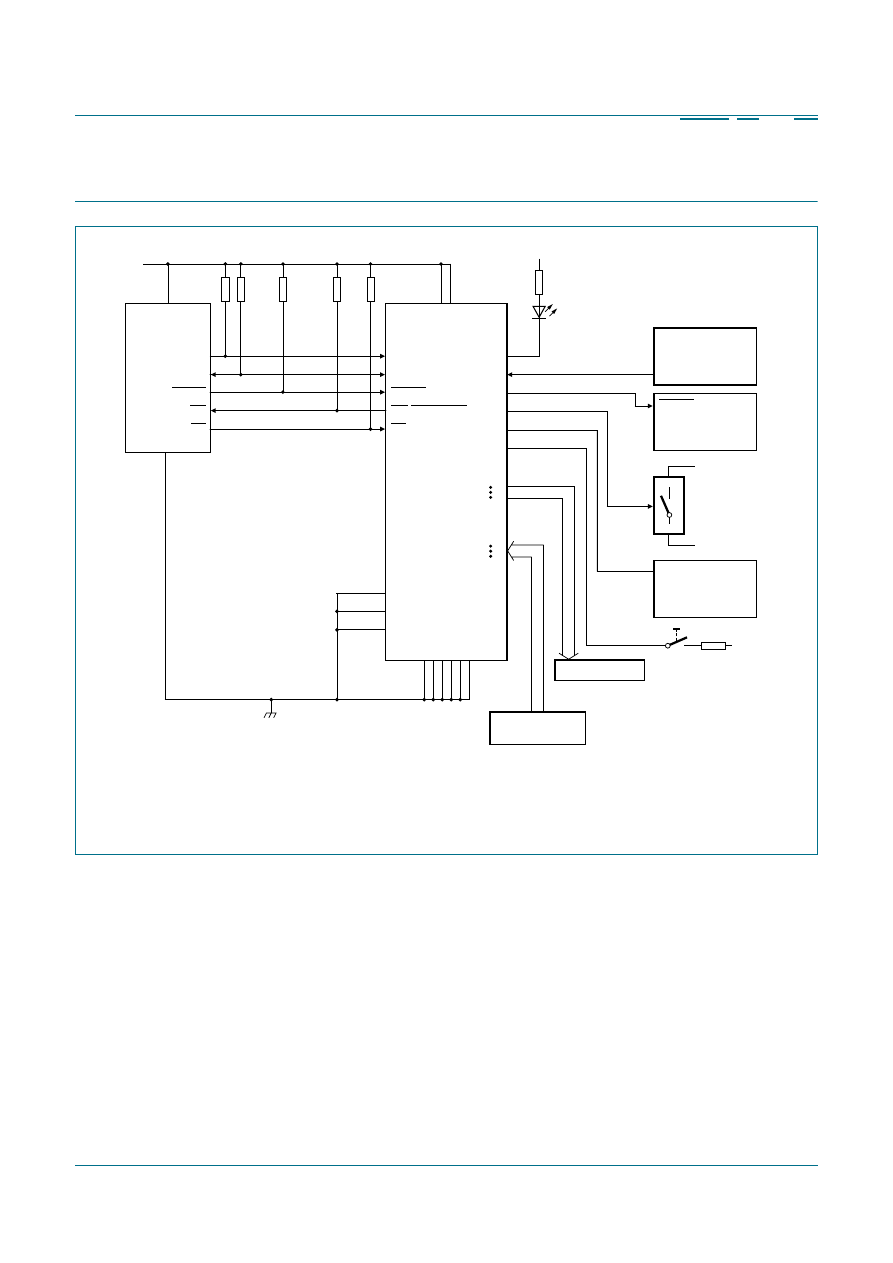 PCA9698
All information provided in this document is subject to legal disclaimers.
© NXP B.V. 2010. All rights reserved.
Product data sheet
Rev. 3 — 3 August 2010 
31 of 48
NXP Semiconductors
PCA9698
40-bit Fm+ I
2
C-bus advanced I/O port with RESET, OE and INT
9. Application 
design-in 
information
Device address configured as '0100 000x' for this example.
IO0_0, IO0_2, IO0_3, IO1_0 to IO3_7 are configured as outputs.
IO0_1, IO0_4, IO4_0 to IO4_7 are configured as inputs.
Fig 25. Typical application
PCA9698
IO0_0
IO0_1
SCL
SDA
V
DD
002aab954
SCL
SDA
1.6 k
Ω
IO0_2
IO0_3
V
DD
V
SS
MASTER
CONTROLLER
V
SS
V
DD
2 k
Ω
SUBSYSTEM 1
(e.g., temp. sensor)
INT
SUBSYSTEM 2
(e.g., counter)
RESET
controlled switch
(e.g., CBT device)
A
B
enable
RESET
INT/SMBALERT
OE
5 V
1.6 k
Ω
RESET
INT
OE
1.1 k
Ω
(optional)
2 k
Ω
1.1 k
Ω
(optional)
SUBSYSTEM 3
(e.g., alarm system)
ALARM
IO0_4
IO0_5
V
DD
IO1_0
IO3_7
24 LED MATRIX
IO4_0
IO4_7
ALPHANUMERIC
KEYPAD
AD2
AD1
AD0