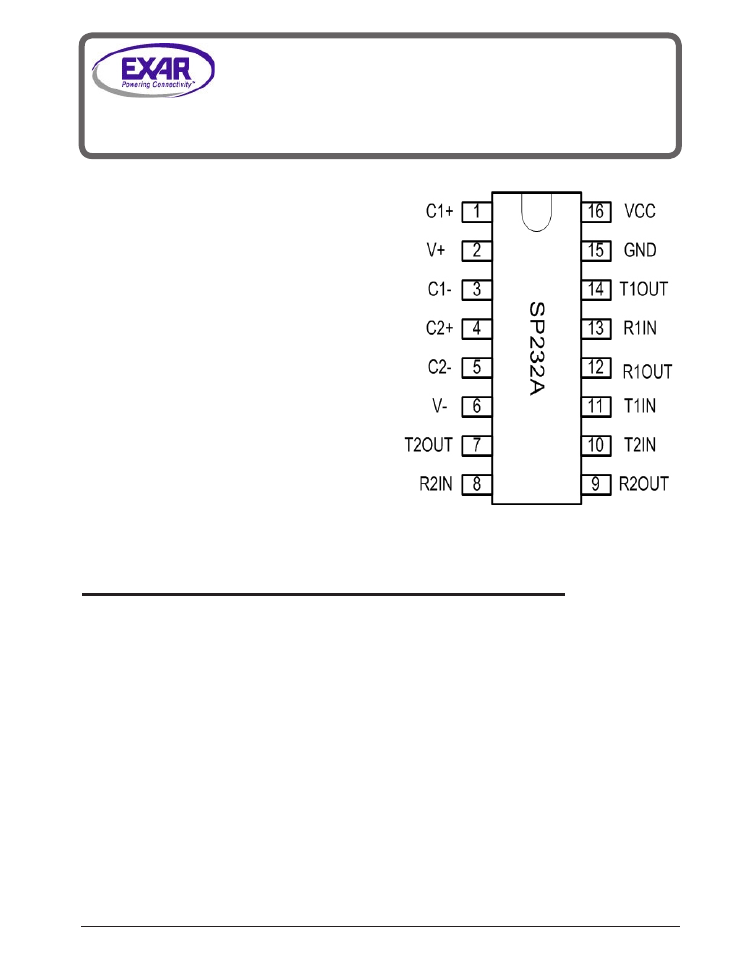 Exar Corporation 48720 Kato Road, Fremont CA, 94538 • (50)668-7000 • Fax (50)668-707 • www.exar.com             SP232A_00_05308              
DESCRIPTION
FEATURES
SP232A
Enhanced RS-232 Line Drivers/Receivers
• Operates from a Single +5V Power Supply
• Meets all RS-232F and ITU V.28 Specifications
• Operates with 0.
μF Ceramic Capacitors
• High Data rate - 20kbps under load
• Low power CMOS Operation
• +/-2kV Human Body Model ESD Protection
• Lead Free packaging available 
The SP232A is a line driver and receiver pair that meets the specifications of RS-232 and V.28 serial 
protocols. This device is pin-to-pin compatible with popular industry standard pinouts. The SP232A 
offers 20kbps data rate under load, small ceramic type 0.
μF charge pump capacitors and overall 
ruggedness for comercial applications. The SP232A features Exar's BiCMOS design allowing for low 
power operation without sacrificing performance. This device is avaialble in plastic DIP, SOICW and 
nSOIC packages operating over the commercial and industrial temperature ranges.