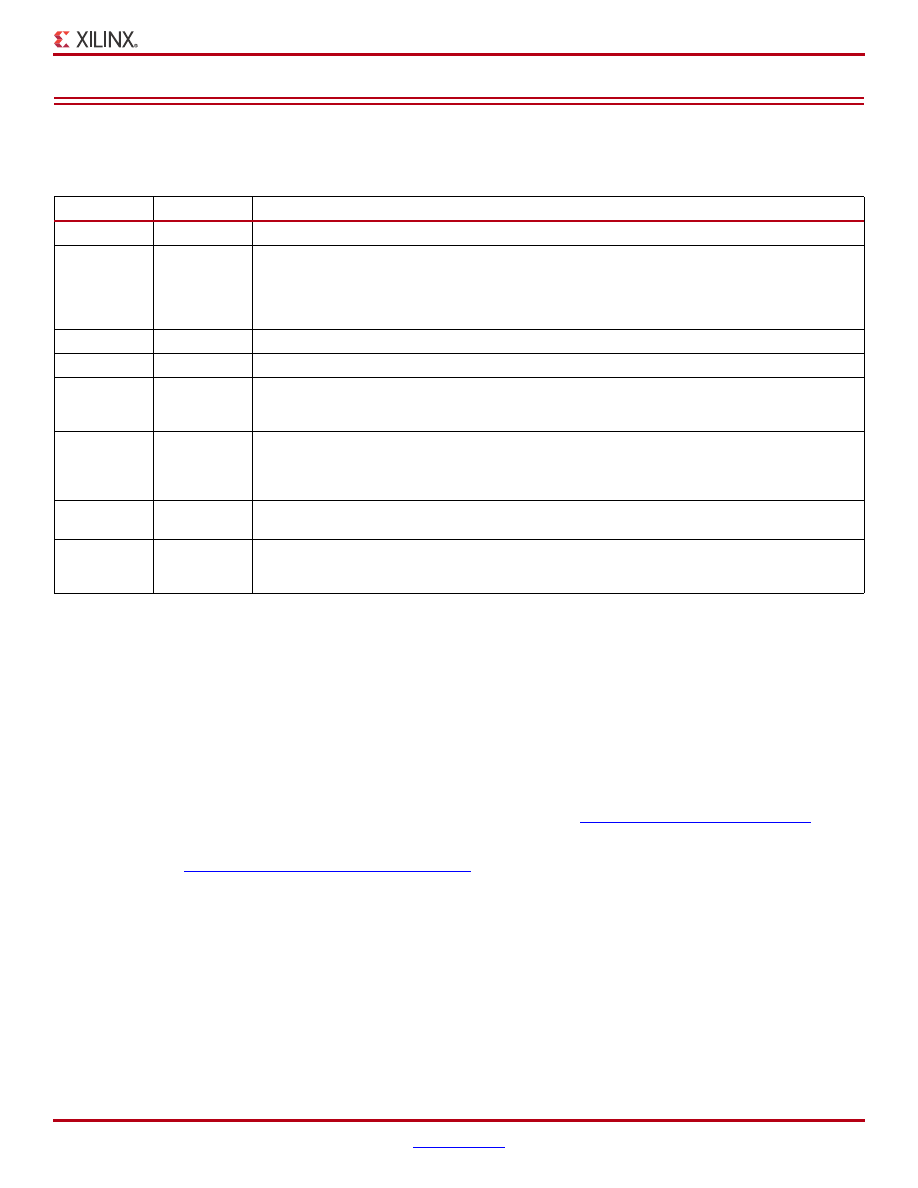 Virtex-6 Family Overview
DS150 (v2.4) January 19, 2012
www.xilinx.com
Product Specification
10
Revision History
The following table shows the revision history for this document:
Notice of Disclaimer
The information disclosed to you hereunder (the "Materials") is provided solely for the selection and use of Xilinx products. To the
maximum extent permitted by applicable law: (1) Materials are made available "AS IS" and with all faults, Xilinx hereby DISCLAIMS ALL
WARRANTIES AND CONDITIONS, EXPRESS, IMPLIED, OR STATUTORY, INCLUDING BUT NOT LIMITED TO WARRANTIES OF
MERCHANTABILITY, NON-INFRINGEMENT, OR FITNESS FOR ANY PARTICULAR PURPOSE; and (2) Xilinx shall not be liable
(whether in contract or tort, including negligence, or under any other theory of liability) for any loss or damage of any kind or nature
related to, arising under, or in connection with, the Materials (including your use of the Materials), including for any direct, indirect,
special, incidental, or consequential loss or damage (including loss of data, profits, goodwill, or any type of loss or damage suffered as a
result of any action brought by a third party) even if such damage or loss was reasonably foreseeable or Xilinx had been advised of the
possibility of the same. Xilinx assumes no obligation to correct any errors contained in the Materials, or to advise you of any corrections
or update. You may not reproduce, modify, distribute, or publicly display the Materials without prior written consent. Certain products
are subject to the terms and conditions of the Limited Warranties which can be viewed at 
http://www.xilinx.com/warranty.htm
; IP cores
may be subject to warranty and support terms contained in a license issued to you by Xilinx. Xilinx products are not designed or intended
to be fail-safe or for use in any application requiring fail-safe performance; you assume sole risk and liability for use of Xilinx products in
Critical Applications: 
http://www.xilinx.com/warranty.htm#critapps
.
Date
Version
Description of Revisions
02/02/09
1.0
Initial Xilinx release.
05/05/09
1.1
Added the FF1156 package for both the XC6VSX315T and XC6VSX475T devices in 
Table 2,  page 3
. 
Updated the PCI Express design discussion on 
page 9
 to remove the LogiCORE wrapper (<100 LUT) 
description and clarify 8 lanes at the 5.0 Gb/s data rate. Clerical edits to 
Global Clock Lines
 and 
10/100/1000 Mb/s Ethernet Controller (2,500 Mb/s Supported)
 sections. Overall clarifications made in 
text.
06/24/09
1.2
Added ordering information and FPGA documentation sections.
09/16/09
2.0
Added Virtex-6 HXT family information. Updated number to 26 Mb in 
Configuration
 section.
11/06/09
2.1
Clarified distributed RAM features on 
page 1
. Updated CLB slice number for the 
XC6VHX565T
 in 
Table 1
. Updated compliance to the PCI Express Base Specification Revision 2.0. Updated 
Integrated 
Interface Blocks for PCI Express Designs
 section with link to documentation.
01/28/10
2.2
In 
Table 1
, there are two Ethernet MACs in the XC6VHX255T. Under 
Clock Management, page 5
, 
revised the VCO frequency minimum to 600 MHz which also revised the phase-shift timing increment. 
Updated GTX transceivers operating data rate range to 6.6 Gb/s. Changed GTX PLL input reference 
clock frequency divider. 
03/24/11
2.3
Changed document classification to Preliminary Product Specification from Advance Product 
Specification. Updated 
Figure 1
.
01/19/12
2.4
Changed document classification to Product Specification from Preliminary Product Specification. 
Updated 
Configuration
, 
CLBs, Slices, and LUTs
, 
Low-Power Gigabit Transceivers
, and 
Virtex-6 FPGA 
Ordering Information
 (including 
Figure 1
).